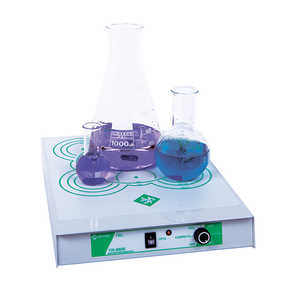 ECROSKHIM Magnetic Stirrer PE-6600
$0.00
Shipped From Abroad

Purpose: stirring of liquids in several vessels (up to 9 vessels) at the same time by means of stirring bar rotating in variable magnetic field. It considerably simplifies the working procedure when a lot of analyses are
Delivery & Availability:
Typically 14-21 working days – excluding furniture and heavy/bulky equipment. Please contact us for further information.
Description
Purpose: stirring of liquids in several vessels (up to 9 vessels) at the same time by means of stirring bar rotating in variable magnetic field. It considerably simplifies the working procedure when a lot of analyses are made.                                                                                                                                                                                                                                                               Features:
– The instrument case is made of duralumin.
– Ferrite stirring bars are coated with low pressure polyethylene.
– It is possible to stir the liquid with several stirring bars in vessels with dia 130 mm. of bottom.
Technical specifications:
– Working mode – continuous
– Maximum continuous working time, hours – 8
– Rotational speed, rpm – 200-800
– Maximum stirred volume, L – 5
– Quantity of placed vessel:
– 5000 ml – 1 pc.
– 1000 ml – 4 pcs.
– 400 ml – 5 pcs.
– 150 ml – 9 pcs.
– Maximum power consumption, W – 20
– Power supply voltage (50 Hz), V – 220 ± 10
– Overall dimensions (WxDxH), mm – 380х270х65
-Weight, kg – 8
Quick Comparison
Settings
ECROSKHIM Magnetic Stirrer PE-6600

remove

IISM VPism-D (Desk Type) Vein Probe

remove

Automatic Pipette

remove

Hawksley 1400 Haematocrit Centrifuge

remove

Motic BA210 Series Biomedical Microscope

remove

Avalun LabPad Device

remove

Name
ECROSKHIM Magnetic Stirrer PE-6600

remove

IISM VPism-D (Desk Type) Vein Probe

remove

Automatic Pipette

remove

Hawksley 1400 Haematocrit Centrifuge

remove

Motic BA210 Series Biomedical Microscope

remove

Avalun LabPad Device

remove

Image
SKU
SF10335601213
SF1033560090-2
SF1033560084-130
SF1033560084-118
SF1033560084-78
SF1033560084-65
Rating
Price

$0.00

$0.00

$0.00

$0.00

$0.00

Stock
Availability
Add to cart
Description

Shipped From Abroad

Purpose:

stirring of liquids in several vessels (up to 9 vessels) at the same time by means of stirring bar rotating in variable magnetic field. It considerably simplifies the working procedure when a lot of analyses are

Delivery & Availability:

Typically 14-21 working days – excluding furniture and heavy/bulky equipment. Please contact us for further information.

Shipped from Abroad

The iiSM VPism-D Vein Probe - Desk Unit includes a camera, touchscreen display, desk stand, power supply, and instruction manual. This device is a non-invasive infrared device mounted to a desk stand, and allows physicians to view blood vessels and capillaries just beneath the skin. Delivery & Availability: Typically 10 working days – excluding furniture and heavy/bulky equipment. Please contact us for further information.

In stock

This Automatic Pipette will help you get your lab up and running in no time—at a great price! Delivery & Availability: Typically 5-7 working days – excluding furniture and heavy/bulky equipment. Please contact us for further information.

In stock

The Hawksley Haematospin 1400 Centrifuges are built in the UK and are made from durable and high-quality components. These centrifuges are ideal for veterinary laboratories and practices specifically designed to produce reliable and accurate results on blood and urine. One of the main features of this centrifuge is that it takes both 2ml microtubes and 75mm microhaematocrits. The classic design of these centrifuges is used worldwide with guaranteed support for all servicing and parts. Delivery & Availability: Typically 5-7 working days – excluding furniture and heavy/bulky equipment. Please contact us for further information.

In stock

The BA210 series is a line of basic biological microscopes manufactured by Motic. The unit is equipped with Motic Infinity Optics (CCIS®, offering quality performance in the fields of education and training. The device features a coaxial coarse and fine housing with a quadruple reverse-mounted nose piece. Its contrast methods, such as phase contrast, polarization and dark field, are easily performed through optional accessories. Delivery & Availability: Typically 5-7 working days – excluding furniture and heavy/bulky equipment. Please contact us for further information.

In stock

The coagulometer, 

LabPad

® INR, measures blood coagulation time thanks to a patented optical technology. This portable In-Vitro Diagnostics (IVD) device works with the Tsmart® INR single-use microcuvettes. Delivery & Availability: Typically 5-7 working days – excluding furniture and heavy/bulky equipment. Please contact us for further information.
Content

Description

Purpose: stirring of liquids in several vessels (up to 9 vessels) at the same time by means of stirring bar rotating in variable magnetic field. It considerably simplifies the working procedure when a lot of analyses are made.                                                                                                                                                                                                                                                               Features: - The instrument case is made of duralumin. - Ferrite stirring bars are coated with low pressure polyethylene. - It is possible to stir the liquid with several stirring bars in vessels with dia 130 mm. of bottom. Technical specifications: - Working mode - continuous - Maximum continuous working time, hours - 8 - Rotational speed, rpm - 200-800 - Maximum stirred volume, L - 5 - Quantity of placed vessel: - 5000 ml - 1 pc. - 1000 ml - 4 pcs. - 400 ml - 5 pcs. - 150 ml - 9 pcs. - Maximum power consumption, W - 20 - Power supply voltage (50 Hz), V - 220 ± 10 - Overall dimensions (WxDxH), mm - 380х270х65 -Weight, kg - 8

The iiSM VPism-D Vein Probe - Desk Unit includes a camera, touchscreen display, desk stand, power supply, and instruction manual. This device is a non-invasive infrared device mounted to a desk stand, and allows physicians to view blood vessels and capillaries just beneath the skin. The iiSM VPism-D Vein Probe - Desk Unit provides accurate placement of needle injections or other vascular treatments, such as for blood draws, catheters, or varicose veins. The touchscreen enables caregivers to zoom in and out of injection sites (up to 4x magnification), as well as pause and start live video. The infrared video shows the location of the veins and capillaries in real time, and can save images for their records. For patients who have difficult-to-find veins, this device will save them from incorrect or painful injection sites.The desk unit is collapsible for storage and easy to reassemble. It's portable with a height-adjustable camera, and an armrest for the patient's arm (recommended that hygienic pads are used for each patient, for a clean, sterile environment). For patients where veins are deeper than the surface level, physicians can use the SLism-F Specialized Light Source (sold separately) for a closer look. Features: Probe Target: Subcutaneous blood vessels of various patients (including capillaries) Probe Method: Non-invasive infrared technology Probe Depth: Within 10 mm under the skin Magnification Function: Up to 1X, 2X and 4X Automatic Adjustment Function: Adjusts the brightness automatically based on the targeted vein Specialized Light Function: Shows the veins more clearly by using the specialized light source Operation Method: Easy to operate with touchscreen Internal Battery Support: Continuous running time: 1.5 hours Warranty: 1 year
This Automatic Pipette will help you get your lab up and running in no time—at a great price! Features:

Lowest operation and tip ejection forces
Fully autoclavable
Ultra light weight with space-age materials
Secondary adjustment option for various liquid classes
Spring loaded tip con
For transferring molecular samples and PCR mix solutions.
One set is for DNA work and the other for RNA work. Each with the following specs
Light weight, traditional tip shaft, and will fit all generic brands of tips
Equal to or better than accuracy and precision compared to ISO 8655, so results can be trusted.
Easy and quick volume adjustment with or without gloves. Foolproof volume lock prevents accidental volume changes.
Low maintenance and autoclavable 121° for at least 20 minutes
Quick release

The Hawksley Haematospin 1400 Centrifuges are built in the UK and are made from durable and high-quality components. These centrifuges are ideal for veterinary laboratories and practices specifically designed to produce reliable and accurate results on blood and urine. One of the main features of this centrifuge is that it takes both 2ml microtubes and 75mm microhaematocrits. The classic design of these centrifuges is used worldwide with guaranteed support for all servicing and parts. Technical specifications:

Speed: 11,800rpm with 24- place rotor
RCF: 14,000g with 24-place rotor
Acceleration: 0-11,800rpm in 60 seconds, with 24-place rotor
Brake: Automatic
Noise: 62dB running with 24-place rotor
Motor: High precision AC/DC series wound motor, brush gear, computer wound coil winding, balance armature and high speed bearings.
Timer: 0-15 minute timer, graduated in 1 minute increments. Automatic switch at zero
Weight: 5.1Kg net (without rotor)
Dimensions: 23.5cm height x 27cm diameter, footprint 16cm diameter
Construction: Aluminium casing with a steel lid
Finish: Body cream white baked enamel, with matt black baked enamel lid

The BA210 series is a line of basic biological microscopes manufactured by Motic. The unit is equipped with Motic Infinity Optics (CCIS®, offering quality performance in the fields of education and training. The device features a coaxial coarse and fine housing with a quadruple reverse-mounted nose piece. Its contrast methods, such as phase contrast, polarization and dark field, are easily performed through optional accessories. Technical applications: Biomedical Type: Optical Observation technique: Dark field Magnification: 4 unit, 10 unit, 40 unit, 100 unit

The coagulometer, 

LabPad

® 

INR

, measures blood coagulation time thanks to a patented optical technology. This portable In-Vitro Diagnostics (IVD) device works with the Tsmart® 

INR

 single-use microcuvettes.

User-friendly: the 

LabPad

® INR is designed to be easy to use especially thanks to its 3D-shaped microcuvette that only requires a small drop of blood from a fingertip. Thanks to the color screen, both measurement steps and browsing the list of results are easy to visualize.

Quick and reliable: the reliability of INR results is obtained by quality controls that are performed automatically before each measurement. In less than one minute, you can see if you are in your therapeutic range.

Connected: the result obtained after performing the test can be transferred to healthcare professionals in charge of your treatment monitoring. This result is complementary to the pie charts and trend reports directly displayed on the 

LabPad

® INR to help you monitoring your treatment

 

Weight
N/A
N/A
N/A
N/A
N/A
N/A
Dimensions
N/A
N/A
N/A
N/A
N/A
N/A
Additional information

| | |
| --- | --- |
| Model | Advanced, Advanced Plus, Basic, Smart |