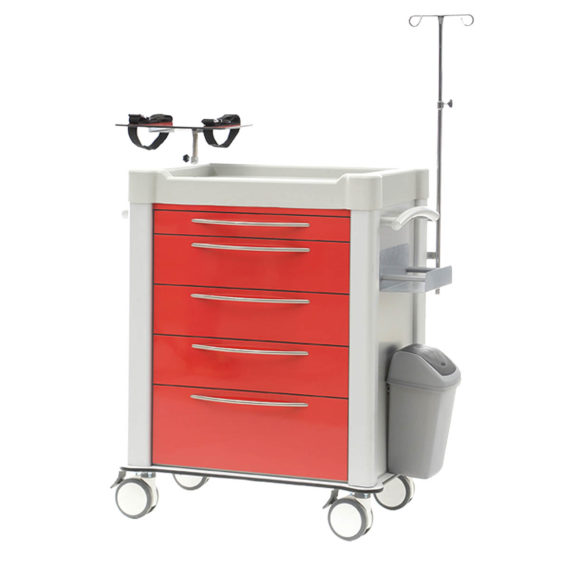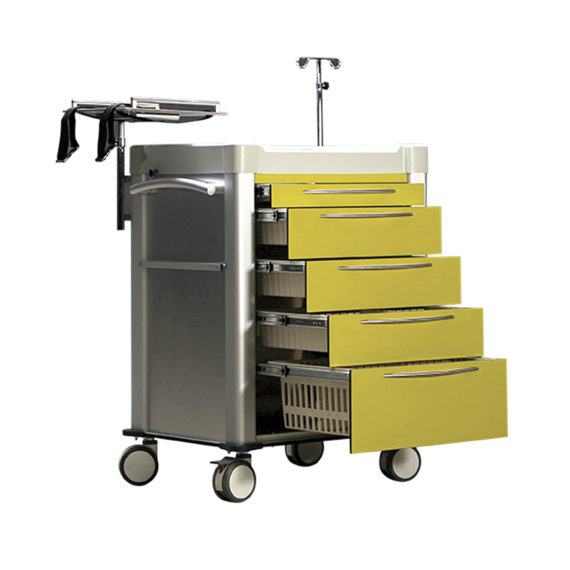 Linealife TECHNOplus TPS-3015 Emergency Cart
Shipped from Abroad
TECHNOplus TPS-3015 Emergency Carts designed to provide easy to use storage for modern practice. They are manufactured using a combination of modern and traditional materials to provide a robust trolley with a modern look and feel.
Delivery & Availability:
Typically 5-7 working days – excluding furniture and heavy/bulky equipment. Please contact us for further information.
Description
DETAILS
• Antibacterial ABS top.
• Drawers with telescopic rails.
• HPL drawers with aluminium frame.
• Frame painted with epoxy powder.
• HPL defibrillator table.
• Resuscitation table.
• Serum holder.
• Two with brake casters.
• SS handles.
• Aluminium push handle.
• Dustbin.
• D: 61O mm
• W: 840 mm
• H: 1080 mm
Quick Comparison
Settings
Linealife TECHNOplus TPS-3015 Emergency Cart

remove

Linealife TECHNOplus TPS-3020 Dressing Trolley

remove

Ceiling Mounted Nine (9) Halogen Bulbs

remove

ASCO Series 6 Ceiling Mounted LED Theater Light (Twin Dome)

remove

Better Medical Electrical Hospital ICU Bed (5 Crank)

remove

Patient Trolley

remove

Name
Linealife TECHNOplus TPS-3015 Emergency Cart

remove

Linealife TECHNOplus TPS-3020 Dressing Trolley

remove

Ceiling Mounted Nine (9) Halogen Bulbs

remove

ASCO Series 6 Ceiling Mounted LED Theater Light (Twin Dome)

remove

Better Medical Electrical Hospital ICU Bed (5 Crank)

remove

Patient Trolley

remove

Image
SKU
SF1033560008
SF1033560008-1
SF1033560084-156
SF1033560084-128
SF1033560084-75
SF1033560084-97
Rating
Price

$0.00

$0.00

$0.00

Stock
Availability
Add to cart
Description

Shipped from Abroad

TECHNOplus TPS-3015 Emergency Carts designed to provide easy to use storage for modern practice. They are manufactured using a combination of modern and traditional materials to provide a robust trolley with a modern look and feel. Delivery & Availability: Typically 5-7 working days – excluding furniture and heavy/bulky equipment. Please contact us for further information.

Shipped from Abroad

TECHNOplus TPS-3020 Dressing Trolley is designed to provide easy to use storage for modern practice. They are manufactured using a combination of modern and traditional materials to provide a robust trolley with a modern look and feel. Delivery & Availability: Typically 5-7 working days – excluding furniture and heavy/bulky equipment. Please contact us for further information.

In stock

Ceiling 9-reflector luminescence shadowless lamp adopts light sources from different positions for focus, providing illumination for surgical operations and medical examination and reducing shadows produced by different parts of medical workers. Illumination can be adjusted according to practical requirements. The lamp is fit for lighting for surgical operations and medical examination in hospitals.

Delivery & Availability: Typically 5-7 working days – excluding furniture and heavy/bulky equipment. Please contact us for further information.

Shipped from Abroad

Memory Function, High quality sterilizable handle, With protective fire resistant ESG safety glass for scratch proof, fast disinfection process, protects UV and IR rays and improve light penetration. With special European design for ventilation of heat. Body is made of high quality fire resistant polymer. Optional – Easily detachable connector based OT Light Delivery & Availability: Typically 5-7 working days – excluding furniture and heavy/bulky equipment. Please contact us for further information.

In stock

Sit position function
Hi-lo function
Abdomen auto-extension decompression
Backrest angle indicator
Whole bed angle indicator
Bumper wheels
Handset

Delivery & Availability: Typically 5-7 working days – excluding furniture and heavy/bulky equipment. Please contact us for further information.

In stock

| | |
| --- | --- |
| Material: | Metal |
| Type: | Emergency Trolley |
| Folded: | Unfolded |
| Using Ambient: | Hospital |
| Numbers of Function: | One-Function |
| Certification: | CE, FDA, ISO13485 |

Delivery & Availability: Typically 5-7 working days – excluding furniture and heavy/bulky equipment. Please contact us for further information.
Content
DETAILS • Antibacterial ABS top. • Drawers with telescopic rails. • HPL drawers with aluminium frame. • Frame painted with epoxy powder. • HPL defibrillator table. • Resuscitation table. • Serum holder. • Two with brake casters. • SS handles. • Aluminium push handle. • Dustbin. • D: 61O mm • W: 840 mm • H: 1080 mm
DETAILS • Antibacterial ABS top. • Drawers with telescopic rails. • HPL drawers with aluminium frame. • Frame painted with epoxy povder. • Two with brake castors. • SS handles. • Aluminium push handle. • Dustbin. • D: 610 MM • W: 840 MM • H:1080 MM
Ceiling 9-reflector luminescence shadowless lamp adopts light sources from different positions for focus, providing illumination for surgical operations and medical examination and reducing shadows produced by different parts of medical workers. Illumination can be adjusted according to practical requirements. The lamp is fit for lighting for surgical operations and medical examination in hospitals. Technical Specifications: Light Intensity: ≥100,000LX (At 1m Distance) Color Rendering Index: Ra ≥90 Color Temperature: 4000K±500K Main Voltage: AC 220V + 22V, 50/60Hz Bulb Voltage: AC24V Bulb Power Input Power: 280VA Rated Power Of Bulb: 25W Height For Installation: 280-320cm
Memory Function, High quality sterilizable handle, With protective fire resistant ESG safety glass for scratch proof, fast disinfection process, protects UV and IR rays and improve light penetration. With special European design for ventilation of heat. Body is made of high quality fire resistant polymer. Optional – Easily detachable connector based OT Light Features:

Light Intensity: 1,80,000 + 1,80,000 Lux ±10%
Color Temperature: 3500-5000 K (ADJUSTABLE)
Number of LED: 126 + 126

Technical Specifications:

| | |
| --- | --- |
|   Size of Light Field | 12-30 cm |
|   Colour Reduction Index | 93 RA |
|   LED Life | >50000 Hrs. |
|   Diameter of Light | 500mm x 2 |
|   Brightness Control | Capacitive Touch Panel |
|   Power Supply | 220V/50Hz AC |
|   Focusing | Adjustable |
|   Battery Backup | Optional |

Features:

Sit position function
Hi-lo function
Abdomen auto-extension decompression
Backrest angle indicator
Whole bed angle indicator
Bumper wheels
Handset

Technical Specifications:

Size: 2140*1000*440~770mm
Packing size: 223*107*50cm(honeycomb box)/1pc
Max. Loading: 250KG(550lb) in movement
Function: Backrest tilting From 0°to 75° ±5°
Footrest tilting From 0°to 40° ±5°
Reverse:14°±1°
Trendelenburg: 14°±1°

Standard Accessories:

4pcs 5"Taiwan castors with central brake system,
1 pair brake pedal,
4pcs PP side rails,
2pcs ABS head and foot board,
4pcs urine hooks,
1 set MOTECK motor system,
4pcs bumper wheels,
4pcs angle indicators,
1pc electric cable holder,
4pcs Dust cover Option: I.V pole, mattress, over bed table, bedside locker

Click Here To Download Catalogue

| | |
| --- | --- |
| Material: | Metal |
| Type: | Emergency Trolley |
| Folded: | Unfolded |
| Using Ambient: | Hospital |
| Numbers of Function: | One-Function |
| Certification: | CE, FDA, ISO13485 |

Castor Lock: 4′ Silent Castors with 2 Skids.

Spare Part Warranty: 1 Year

Lifetime: More Than 10 Years

Usage:

Advanced Medical Motor System

Transport Package: Export Standard Packing

Specification: 1900*630*800mm

Weight
N/A
N/A
N/A
N/A
N/A
N/A
Dimensions
N/A
N/A
N/A
N/A
N/A
N/A
Additional information