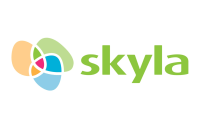 Skyla, originated from the Latin word "scilla", meaning "spring beauty and warm hospitality" that symbolizes the true essence of the brand. skyla product offering represents new opportunities in the medical science and fresh impetus in healthcare. skyla is the new brand entity of LITE-ON Technology Corporation, a global leader of storage solutions for PC, automotive and consumer electronics industry. skyla will project a brand new image of the company in the Medical & Biotech related market, and will create a healthier and better future for all.
Our Vision: Skyla products, as a trustworthy brand in the life science industry, will lead the change in advancing healthcare delivery.
Our Mission: Drawing on our parent company's extensive experience and expertise in manufacturing of high quality and high reliability IT products, and leveraging our multidisciplinary research and development team, we expanded into the healthcare product industry. Based on market needs and requirements, with both new product development and improvement of currently available products, we strive to continuously develop highly reliable and trustworthy healthcare products to meet worldwide human healthcare demands. We aim to become a pioneering company in the healthcare industry. In the meantime, we also develop and manufacture competitive animal healthcare products, focusing on market needs and user friendliness, aspiring to become a leader in the animal healthcare market.
We found 2 products available for you