Sorry, this product cannot be purchased.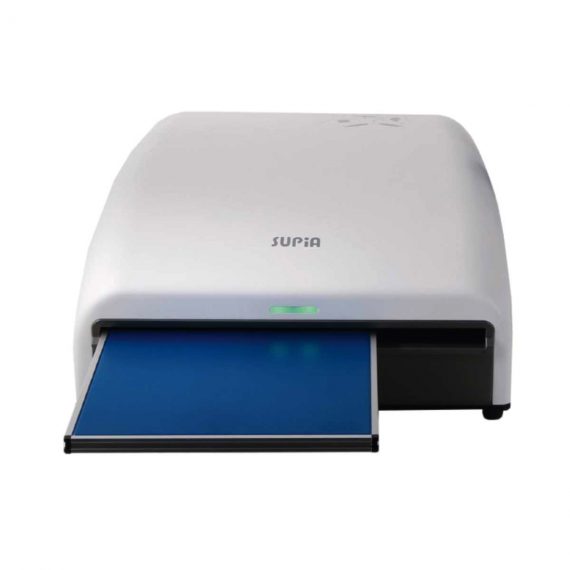 SIGNERS SUPiA X-ray Digitizer
Ship from abroad
SUPiA made by Signers offers such a better clinic environment with no chemicals, ideal space, high-resolution image quality, and affordability.
Delivery & Availability:
Typically 14 working days – excluding furniture and heavy/bulky equipment. Please contact us for further information.
Description
SUPiA made by Signers offers such a better clinic environment with no chemicals, ideal space, high-resolution image quality, and affordability
FEATURE
Rigid Type
• No damage or scratch on image plates during scanning & erasing
• Scanning & Erasing without a roller
• No cut-off image during winter and cold period
Durability
• Extremely simple structure design
• Strong aluminum base plate
• Flip covers preventing dust from inside scanner
Barcode System
• Automatically recognising cassette sizes(14×17″, 10×12″, 18x24cm) by barcode reader
Compact & lightweight design
Very small and compatible CR on desktop (only 63.5cm)
Only 21.5kg (47.4lbs)
Cassette
Strong structure
• Strong enough against external impact
• Totally metal frame
• Enduring under 150kg on cassette
Featherlight
• 14×17″ : 2.05kg 10×12″ : 0.99kg 18x24cm : 0.75kg
Dust free & Easy cleaning
• Easy to clean up dust on IPs
• Prevent dust from outside
User friendly design
• Various colors 14×17″(Green),
10×12″(Blue), 18x24cm(Pink))
• Barcode label
TECHNICAL SPECIFICATION
SUPiA Specifications

Cassette
SUPiA CR Cassette 14×17 (inch)

SUPiA CR Cassette 10×12 (inch)

SUPiA CR Cassette 18×24 (cm)

Throughput
Up to 94 IPs/hour (14×17″/160μm)
Slots
Single Cassette feed
Dimensions (W x D x H)
436 x 636 x 196mm
Weight
21.5kg (47.4lbs)
Grayscale Resolution
Acquisition : 16 bits per pixel

Display : 12 bits per pixel

Power Supply Conditions
Single Phase 50 ~ 60Hz

AC 90 ~ 264V

Network
100 MBit
PC Connection
USB 2.0
Computer Min.

requirements

OS : Win 7 or 10

CPU : Intel i5

RAM : 4GB

Graphic Card : Intel HD 2500

HDD : 500GB

Monitor : FHD 1920 x 1080

Operating conditions
Temperature : 10 ~ 30˚C

Humidity : 15 ~ 85% RH