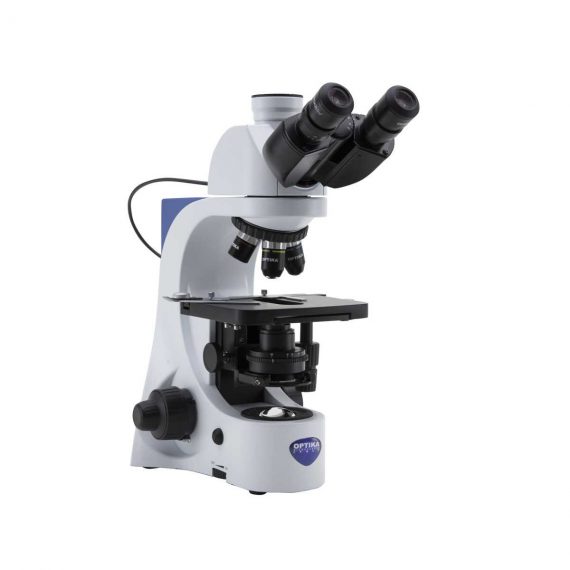 OPTIKA B-382PL-ALC Binocular Brightfeld Microscope
$0.00
Shipped from Abroad
The OPTIKA B-380 is an educational and laboratory microscope for routine applications. Dye-cast frame, with high stability and ergonomy, for transmitted light observation.
Delivery & Availability:
Typically 21 working days – excluding furniture and heavy/bulky equipment. Please contact us for further information.
Description
Observation mode: Brightfield.
Head: Binocular, 30° inclined, 360° rotating (when ALC cable is unplugged).
Interpupillary distance: Adjustable between 48 and 75 mm.
Dioptric adjustment: On the left eyepiece tube.
Eyepieces: WF10x/20 mm, high eye-point and secured by screw.
Nosepiece: Quintuple revolving nosepiece, rotation on ball bearings.
Objectives:
N-PLAN 4x/0.10
N-PLAN 10x/0.25
N-PLAN 40x/0.65
N-PLAN 100x/1.25 (Oil/Water)
All with anti-fungus treatment.
Specimen stage: Double layer rackless mechanical stage, 150×139 mm, 75×33 mm X-Y range.
Focusing: Coaxial coarse (adjustable tension) and fine focusing mechanism with limit stop to prevent the contact between objective and specimen. Condenser: Abbe N.A. 1.25, with objective-coded iris diaphragm, focusable and centerable.
Illumination (Fixed Koehler type): X-LED3 with white 3.6 W LED (6,300K) and brightness control. ALC system. Multi-plug 100-240Vac/6Vdc external power supply.
Quick Comparison
Settings
OPTIKA B-382PL-ALC Binocular Brightfeld Microscope

remove

Lab/Ward Coat

remove

Automatic Pipette

remove

Optika B-150P-BRPL Binocular Polarizing Microscope

remove

Bunsen Burner

remove

Tripod Stand

remove

Name
OPTIKA B-382PL-ALC Binocular Brightfeld Microscope

remove

Lab/Ward Coat

remove

Automatic Pipette

remove

Optika B-150P-BRPL Binocular Polarizing Microscope

remove

Bunsen Burner

remove

Tripod Stand

remove

Image
SKU
SF1033560098-13
SF1033560084-222
SF1033560084-130
SF1033560098-3
SF1033560084-155
SF1033560084-186
Rating
Price

$0.00

$0.00

$0.00

Stock
Availability
Add to cart
Description

Shipped from Abroad

The OPTIKA B-380 is an educational and laboratory microscope for routine applications. Dye-cast frame, with high stability and ergonomy, for transmitted light observation. Delivery & Availability: Typically 21 working days – excluding furniture and heavy/bulky equipment. Please contact us for further information.

In stock

This white coat laboratory coat is a knee-length overcoat/smock is perfect for professionals in the medical field or by those involved in laboratory work.

This garment is Easy to wash and made from a cotton polyester blend, allowing it to be washed at high temperature and make it easy to see if it is clean.

Easy to wash.

Delivery & Availability:

Typically 5-7 working days – excluding furniture and heavy/bulky equipment. Please contact us for further information.

In stock

This Automatic Pipette will help you get your lab up and running in no time—at a great price! Delivery & Availability: Typically 5-7 working days – excluding furniture and heavy/bulky equipment. Please contact us for further information.

Shipped from Abroad

Cordless binocular polarized light microscope ideal for students and primary schools, with three PLAN achromatic lenses (400x), FN 18 high eyepoint eyepieces, finite optical system, coaxial focusing, rotating stage, Abbe condenser and powerful, uniform, white color temperature 1 W X-LED1 illumination.

Delivery & Availability: Typically 21 working days – excluding furniture and heavy/bulky equipment. Please contact us for further information.

In stock

Item: Bunsen Burner
Btu Output: 800 - 1200
Overall Height: 6-1/8"
Fuel Type: Natural
Barb Size: 7/16"

Delivery & Availability: Typically 5-7 working days – excluding furniture and heavy/bulky equipment. Please contact us for further information.

In stock

Model Number: 1105 tripod stand
Product name: Tripod stand
Material: Stainless Steel
Application: Lab Research
Color: Black tripod stand

Delivery & Availability: Typically 5-7 working days – excluding furniture and heavy/bulky equipment. Please contact us for further information.
Content
Observation mode: Brightfield. Head: Binocular, 30° inclined, 360° rotating (when ALC cable is unplugged). Interpupillary distance: Adjustable between 48 and 75 mm. Dioptric adjustment: On the left eyepiece tube. Eyepieces: WF10x/20 mm, high eye-point and secured by screw. Nosepiece: Quintuple revolving nosepiece, rotation on ball bearings. Objectives: N-PLAN 4x/0.10 N-PLAN 10x/0.25 N-PLAN 40x/0.65 N-PLAN 100x/1.25 (Oil/Water) All with anti-fungus treatment. Specimen stage: Double layer rackless mechanical stage, 150×139 mm, 75×33 mm X-Y range. Focusing: Coaxial coarse (adjustable tension) and fine focusing mechanism with limit stop to prevent the contact between objective and specimen. Condenser: Abbe N.A. 1.25, with objective-coded iris diaphragm, focusable and centerable. Illumination (Fixed Koehler type): X-LED3 with white 3.6 W LED (6,300K) and brightness control. ALC system. Multi-plug 100-240Vac/6Vdc external power supply.

This white coat laboratory coat is a knee-length overcoat/smock is perfect for professionals in the medical field or by those involved in laboratory work.
This garment is Easy to wash and made from a cotton polyester blend, allowing it to be washed at high temperature and make it easy to see if it is clean.
Easy to wash.

This Automatic Pipette will help you get your lab up and running in no time—at a great price! Features:

Lowest operation and tip ejection forces
Fully autoclavable
Ultra light weight with space-age materials
Secondary adjustment option for various liquid classes
Spring loaded tip con
For transferring molecular samples and PCR mix solutions.
One set is for DNA work and the other for RNA work. Each with the following specs
Light weight, traditional tip shaft, and will fit all generic brands of tips
Equal to or better than accuracy and precision compared to ISO 8655, so results can be trusted.
Easy and quick volume adjustment with or without gloves. Foolproof volume lock prevents accidental volume changes.
Low maintenance and autoclavable 121° for at least 20 minutes
Quick release

Cordless binocular polarized light microscope ideal for students and primary schools, with three PLAN achromatic lenses (400x), FN 18 high eyepoint eyepieces, finite optical system, coaxial focusing, rotating stage, Abbe condenser and powerful, uniform, white color temperature 1 W X-LED1 illumination. Slim and easy to carry, it is equipped with all the main controls to start learning how to use an advanced microscope and with long lasting LED illumination to provide over 20 years of use. Rotating swing-out polarizer and sliding-out fixed analyzer included. The exclusive Li-Ion battery ensures unparalleled duration and fast recharge. Features:

Observation mode: Brightfield, Polarized Light.
Head: Binocular, 30° inclined; 360° rotating.
Eyepiece: WF10x/18 mm, secured by screw.
Nosepiece: Quadruple ball bearings revolving nosepiece.
Objectives: – N-PLAN 4x/0.10, with anti-fungus treatment – N-PLAN 10x/0.25 , with anti-fungus treatment – N-PLAN 40x/0.65 , with anti-fungus treatment
Specimen stage: Rotatable round stage, 120 mm diameter.
Focusing: Coaxial coarse and fine focusing mechanism with limit stop to prevent the contact between objective and specimen. Adjustable tension of coarse focusing knob.
Condenser: N.A. 1.25, pre-centered, fixed with iris diaphragm.
Illumination: X-LED1 with white 1 W LED and light intensity control.
Color temperature: 6,300 K. Li-Ion battery for long lasting operation. Multi-plug 100-240Vac/5Vdc external power supply.
Polarizing filters: Rotating Polarizer (swing-out) and fixed Analyzer (sliding-out).

Technical Specifications:

| | | |
| --- | --- | --- |
| Observation Method - Transmitted Light | Brightfield | Yes |
|   | Simple polarized light | Yes |
| Main Body | Type | Upright |
|   | Construction material | Aluminum die-cast |
| Head | Type | Binocular (Siedentopf) |
|   | Inclination | 30° |
|   | 360° rotating | Yes |
|   | Interpupillary distance (mm) | 48-75 |
|   | Dioptric adjustement | On left tube |
|   | Fixing screw for eyepieces | Yes |
|   | Tube inner diameter (mm) | 23 |
| Eyepieces | Field number (mm) | 18 |
|   | Magnification | 10x |
|   | High eyepoint (for glass wearers) | Yes |
|   | Pointer | As optional |
|   | Micrometric scale | As optional |
|   | Diameter of micrometer glass (mm) | 20 |
| Nosepiece | Positions | Quadruple |
|   | Bi-directional | Yes |
|   | Rotation on ball bearings | Yes |
|   | Objective thread | RMS |
| Objectives | Optical system | 160 |
|   | Anti-fungus treatment | Yes |
|   | Parfocal distance (mm) | 45 |
|   | Standard magnifications | 40x-400x |
|   | Type | N-PLAN |
|   | Objectives included | 4x/0.10, W.D. 15.2 mm 10x/0.25, W.D. 5.5 mm 40x/0.65, W.D. 0.45 mm |
| Stage | Type | Round |
|   | Rotation | 360° |
|   | Dimensions (mm) | 120 |
|   | Material | Anti-scratch painting |
|   | Specimen clips | Yes |
|   | Slide number | 1 |
| Condenser - Single Position | Type | Fixed |
|   | Numerical aperture (N.A.) | 1.25 |
|   | Diaphragms | Iris |
|   | Centrable | Pre-centered |
| Focusing System | Type | Coaxial coarse & fine |
|   | Coarse total travel (mm) | 16 |
|   | Fine total travel (per single rotation) (mm) | 0.4 |
|   | Fine graduations | 100 |
|   | Fine resolution (µm) | 4 |
|   | Upper stop to prevent contact | Yes |
|   | Adjustable tension | Yes |
| Transmitted Illumination | Type | X-LED |
|   | X-LED type | X-LED1 |
|   | Light source power (W) | 1 |
|   | Brightness control | Manual |
|   | Lifetime (hours) | > 65,000 |
|   | Temperature (K) | 6,300 |
|   | Max. required power (W) | 1.5 |
| Power Supply for Transmitted Illumination | Type | External |
|   | Microscope connector | Jack, 2.1 mm |
|   | Power plug type | Multi-plug (EU, UK, US) |
|   | Input voltage | 100/240 Vac, 50/60 Hz |
|   | Output voltage | 5 Vdc 500 mA |
|   | LED indicator | Yes |
|   | Rechargeable batteries | Yes |
|   | Battery type | Li-ion (battery pack) |
|   | Working time of batteries (hours) | 15 |
|   | Charging time of batteries (hours) | 6 |
| Accessories Included | Dust cover | Yes |
|   | Tension adjustment tool | Yes |
|   | User Manual | Digital version (downloadable) |
| Additional Information | | Rotating polarizer (swing-out) and fixed analyzer (sliding-out) filters |
| Product Weight | Height (mm) | 350 |
|   | Width (mm) | 170 |
|   | Depth (mm) | 320 |
| Product Weight | (kg) | 4 |

Item: Bunsen Burner
Btu Output: 800 - 1200
Overall Height: 6-1/8"
Fuel Type: Natural
Barb Size: 7/16"

Model Number: 1105 tripod stand
Product name: Tripod stand
Material: Stainless Steel
Application: Lab Research
Color: Black tripod stand

Weight
N/A
N/A
N/A
N/A
N/A
N/A
Dimensions
N/A
N/A
N/A
N/A
N/A
N/A
Additional information