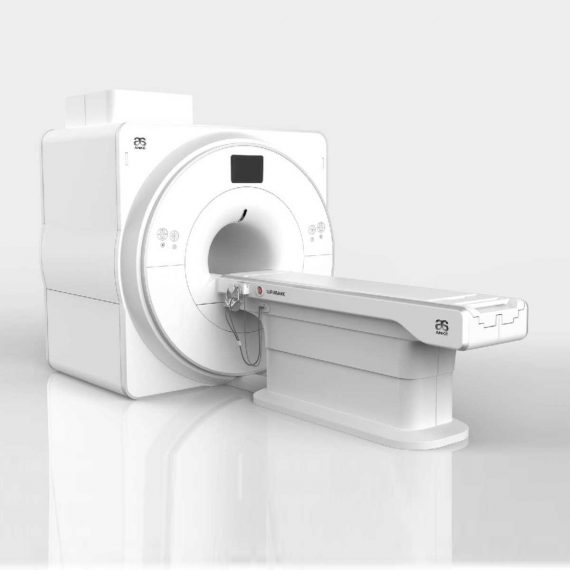 Anke Supermark 1.5T MRI Machine
₦0.00
Shipped from Abroad
SuperMark 1.5T is a new generation superconducting MRI system based on years of experience in production and research. It's applicable to whole body scan, such as, nervous system, spine, joint soft tissue, pelvic and abdominal cavity, etc
Delivery & Availability:
Typically 90 working days – excluding furniture and heavy/bulky equipment. Please contact us for further information.
Description
SuperMark 1.5T is a new generation superconducting MRI system based on years of experience in production and research. It's applicable to whole body scan, such as, nervous system, spine, joint soft tissue, pelvic and abdominal cavity, etc. SuperMark 1.5T provides not only conventional pulse sequences and clinical diagnosis functions, but also provides advanced functional applications, for instance, 3D angiography and water imaging. It adopts brand new ANKE APEX operating system which ensures easy operation and fast diagnosis.
Technical Advantages:
Reliable short cavity superconducting magnet system with zero liquid helium
consumption
New generation fully digitalized and extensible multichannel spectrometer
Powerful high efficiency and high fidelity gradient system; Multi-channel PA RF
receiving coil with intelligent identification
English operating system and high extensible computer system
High resolution conventional clinical images; Practical advanced functional
imaging
Superconducting MRI System:
Highly open and humanization design -> Streamlined design
Rich sequences and technology satisfy clinical needs -> Efficient service
Low Investment:
High cost performance superconducting MRI system
Zero liquid helium consumption, low running and maintenance cost
Core technology by independent R & D supports full upgrade
Low electric consumption
Compact magnet design, minimum installation space: 35 square meters
High Return:
High resolution thin slice images improve diagnosis
Short cavity magnet design makes patients comfortable
Fast scan speed improves work efficiency
Technical Specifications:
No.
Technique Description
Parameter
1
Magnet System
 1.1
 Magnet Type
Permanent Magnet

Automatic constant temperature

system

1.2
Field Strength
0.51T
1.3
Magnet Shape
Dual-pillar shape
1.4
Homogeneity(40cm,DSV,VRMS)
≤1.6ppm
1.5
Shim Method
Active/Passive
1.6
Magnet Vertical Gap (Cover)
40cm
1.7
Magnetic Pole Dia. (Exclude Cover)
145cm
1.8
Accessibility(Horizontal Opening Angle,
280°
1.9
5 Gauss fringe field
X-axis:horizontal ≤2.5m

Y-axis:Vertical ≤2.5m

Z-axis:horizontal ≤2.5m

2
Patient Couch and Communication
2.1
Patient Couch Driven mode
Motor-driven
2.2
Max. Patient Weight
≥200kg(440lbs)
2.3
Patient Positioning Tools
Laser Light Localizer for positioning of center slice Motor-driven transfer to center of imaging volume
2.4
Position accuracy
±1mm
2.5
Emergency Call Key
Yes
2.6
Intercom System
Yes
3
Gradient System
3.1
Gradient Field Strength(Single Axis)
≥30mT/m
3.2
Gradient Slew Rate (Single Axis)
≥100mT/m/ms
3.3
Rise Time
≤0.3ms
3.4
Gradient Cooling System ( Gradient coils

and Power electronics)

Air Cooling
4
RF System
4.1
RF System Type
Digital Transmit and

Receive signal

4.2
Number of RF Channels
4
4.3
Transmitter Amplifier Peak Power
6kW
4.4
RF Bandwidth of Receiver
≥1.25MHz
4.5
Head Coil
Yes
4.6
Neck Coil
Yes
4.7
Body/Spine Coil (17 inch)
Yes
4.8
Body/Spine Coil (21 inch)
Yes
4.9
Knee Coil
Yes
4.10
Shoulder Coil
Yes
4.11
Flexible Coil
Optional
4.12
Breast Coil
Optional
5
Computer System
5.1
Host Computer
DELL Computer (for MR)
5.2
System Software
Windows XP
5.3
Operation Software
APEX
5.4
CPU Clock rate
3.0GHz
5.5
Main Memory
4GB
5.6
Color LCD Monitor
19"
5.7
Keyboard and Mouse
Standard
5.8
Image Reconstruction Speed(256 x 256

Matrix)

200 frame/Sec.
5.9
Hard Disk
500GB
5.10
Image Storage Capacity(256 x 256

Matrix)

500,000
5.11
Media Driver
DVD RW
5.12
DICOM 3.0
Yes
5.13
Ethernet
Yes
5.14
Operation Console
Yes
5.15
Operation Chair
Yes
6
Scanning Parameter
6.1
Max. FOV
410mm
6.2
Min. FOV
5mm
6.3
Min. TE(SE)
5ms
6.4
Min. TR(SE)
11ms
6.5
Min. TE(GR)
1ms
6.6
Min. TR(GR)
3ms
6.7
Min. 2D Thickness
1.0mm
6.8
Min. 3D Thickness
0.1mm
6.9
Max. Image Matrix
512×512
7
Scanning Sequence & Imaging Technique
7.1
Spin Echo 2D/3D (SE 2D/3D)
Yes
7.2
DE/QE
Yes
7.3
Fast Spin Echo 2D/3D(FSE 2D/3D)
Yes
7.4
Single Shot FSE 2D/3D
Yes
7.5
Inversion Recovery(IR)
Yes
7.6
Fast Inversion Recovery(FIR)
Yes
7.7
Gradient Echo 2D/3D(GR 2D/3D)
Yes
7.8
Fast GR 2D/3D
Yes
7.9
SPGR
Yes
7.10
FLAIR
Yes
7.11
Fat Imaging
Yes
7.12
Fat Suppression imaging
Yes
7.13
Water-Fat Separation imaging
Yes
7.14
TOF MRA(2D/3D)
Yes
7.15
MRCP(2D/3D)
Yes
7.16
MRU (2D/3D)
Yes
7.17
MRM
Yes
7.18
Fast Hydrograph Imaging
Yes
7.19
Diffusion Weighted Imaging(DWI)
Yes
7.20
Max. b Value
1000s/mm2
7.21
Breath Hold Technology
Yes
7.22
Magnetization Transfer Contrast(MTC)
Yes
7.23
Multi-slice and Angle-free Presaturation
Yes
7.24
Saturation Tracking
Yes
7.25
Maximum Intensity Projection(MIP)
Yes
7.26
Multi-Angle Projection(MAP)
Yes
7.27
3D Reconstruction
Yes
7.28
Multi-planar Reconstruction(MPR)
Yes
7.29
Multi-Artifacts Eliminating technology
Yes
7.30
Checking with Part Metal Implant
Yes
7.31
Online Image Filtration
Yes
7.32
Online Post Procession
Yes
7.33
3D Scout
Yes
7.34
Scanning Protocol Preset
Yes
7.35
Scanning Protocol Queue Waiting
Yes
7.36
Advanced Image Post Processing
Yes
7.37
Image Fusion Technology of Vascular
Yes
7.38
Image Fusion Technology of Spine
Yes
Additional information
| | |
| --- | --- |
| Model | Advanced, Advanced Plus, Basic, Smart |