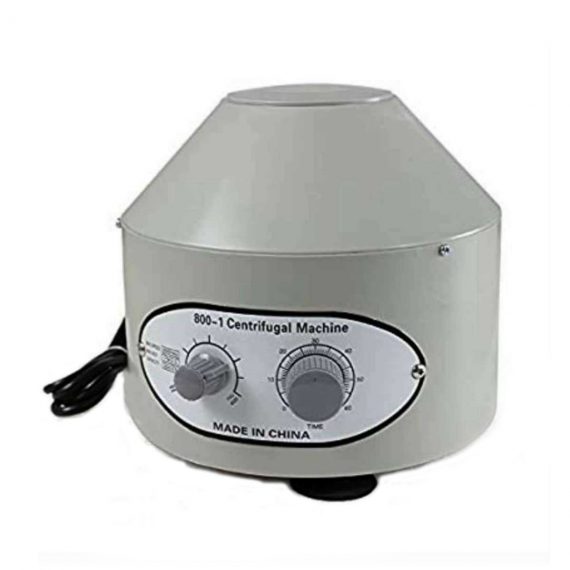 8 Bucket Centrifuge
In stock
Classification:

Laboratory Centrifuge
Brand Name:

xiangtian
Model Number:

800-1
Place of Origin:

Jiangsu, China
Time range:

0-60min
Max speed:

4000r/min
Max RCF:

1790xg
Capacity:

20ml*6
Delivery & Availability:
Typically 5-7 working days – excluding furniture and heavy/bulky equipment. Please contact us for further information.
Description
800-1  electric centrifuge is widely used in hospitals, chemical and Biological Chemistry Laboratory for serum, plasma, immune qualitative analysis experiment. Has beautiful shape, large capacity, small volume, complete function. Its performance is stable, the speed is adjustable and can automatically adjust the balance, low temperature, high efficiency and wide applicability and advantages.
Technical Specifications:
| | |
| --- | --- |
| Type No. | 800-1 |
| Power  source | 220V 50HZ     110V  60HZ |
| Speed Range (rpm) | 0~4000(rpm) |
| Time Range(min) | 0-60min |
| Capacity (ml) | 20(ml)×6 |
| Maximum centrifugal force(xg) | 1790(xg) |
| Package Size (cm) | 29*29*26 |
Quick Comparison
Settings
8 Bucket Centrifuge

remove

Hawksley 1400 Haematocrit Centrifuge

remove

Avalun LabPad Device

remove

ABAXIS HD Video Microscope

remove

Zenithlab (IB-9025A) Laboratory Incubator

remove

Erma B-111 Bilirubin Meter

remove

Name
8 Bucket Centrifuge

remove

Hawksley 1400 Haematocrit Centrifuge

remove

Avalun LabPad Device

remove

ABAXIS HD Video Microscope

remove

Zenithlab (IB-9025A) Laboratory Incubator

remove

Erma B-111 Bilirubin Meter

remove

Image
SKU
SF1033560084-114
SF1033560084-118
SF1033560084-65
SF1033560084-32
SF1033560084-109
SF1033560084-6
Rating
Price

$0.00

$0.00

$0.00

Stock

Out of stock

Availability
Out of stock
Add to cart
Description

In stock

Classification:

Laboratory Centrifuge

Brand Name:

xiangtian

Model Number:

800-1

Place of Origin:

Jiangsu, China

Time range:

0-60min

Max speed:

4000r/min

Max RCF:

1790xg

Capacity:

20ml*6

Delivery & Availability: Typically 5-7 working days – excluding furniture and heavy/bulky equipment. Please contact us for further information.

In stock

The Hawksley Haematospin 1400 Centrifuges are built in the UK and are made from durable and high-quality components. These centrifuges are ideal for veterinary laboratories and practices specifically designed to produce reliable and accurate results on blood and urine. One of the main features of this centrifuge is that it takes both 2ml microtubes and 75mm microhaematocrits. The classic design of these centrifuges is used worldwide with guaranteed support for all servicing and parts. Delivery & Availability: Typically 5-7 working days – excluding furniture and heavy/bulky equipment. Please contact us for further information.

In stock

The coagulometer, 

LabPad

® INR, measures blood coagulation time thanks to a patented optical technology. This portable In-Vitro Diagnostics (IVD) device works with the Tsmart® INR single-use microcuvettes. Delivery & Availability: Typically 5-7 working days – excluding furniture and heavy/bulky equipment. Please contact us for further information.

In Stock

The HDmicroscope is a versatile digital imaging solution that can be used for multiple tasks in day-to-day slide microscopy, digital image capture, and real-time imaging during live pathology consults or client discussions. The microscopy camera & monitor system is perfect for single use, teaching or group presentations without the need for a computer set-up.

Delivery & Availability:

Typically 2 working days – excluding furniture and heavy/bulky equipment. Please contact us for further information.

In stock

Microprocessor control.
Digital display setting and actual temperature.
Over temperature alarm, PID self-tuning.
Digital display running timer.
Stainless steel interior.
Electricity leakage protection.
With glass inner door, With hidden door locks.
Mechanical overheat protection, cut off the heating sources.
Automatic alarm after operation.
Suitable for constant temperature tests.
Suitable for bacteria cultivation, breeding, ferment.

Delivery & Availability: Typically 5-7 working days – excluding furniture and heavy/bulky equipment. Please contact us for further information.

Shipped From Aboard 

The advanced B111 Bilirubinmeter provides fast, accurate results for Total bilirubin level in neonates with only 40μl serum or plasma sample. It determines total bilirubin by dual wavelength photometric analysis. Suited for pediatric setups, small workload labs & hospitals because of its compact and portable design. Advanced, benchtop and precise instrument for measuring Total Bilirubin.

Delivery & Availability:

Typically 2 working days – excluding furniture and heavy/bulky equipment. Please contact us for further information.
Content
800-1  electric centrifuge is widely used in hospitals, chemical and Biological Chemistry Laboratory for serum, plasma, immune qualitative analysis experiment. Has beautiful shape, large capacity, small volume, complete function. Its performance is stable, the speed is adjustable and can automatically adjust the balance, low temperature, high efficiency and wide applicability and advantages. Technical Specifications:

| | |
| --- | --- |
| Type No. | 800-1 |
| Power  source | 220V 50HZ     110V  60HZ |
| Speed Range (rpm) | 0~4000(rpm) |
| Time Range(min) | 0-60min |
| Capacity (ml) | 20(ml)×6 |
| Maximum centrifugal force(xg) | 1790(xg) |
| Package Size (cm) | 29*29*26 |

The Hawksley Haematospin 1400 Centrifuges are built in the UK and are made from durable and high-quality components. These centrifuges are ideal for veterinary laboratories and practices specifically designed to produce reliable and accurate results on blood and urine. One of the main features of this centrifuge is that it takes both 2ml microtubes and 75mm microhaematocrits. The classic design of these centrifuges is used worldwide with guaranteed support for all servicing and parts. Technical specifications:

Speed: 11,800rpm with 24- place rotor
RCF: 14,000g with 24-place rotor
Acceleration: 0-11,800rpm in 60 seconds, with 24-place rotor
Brake: Automatic
Noise: 62dB running with 24-place rotor
Motor: High precision AC/DC series wound motor, brush gear, computer wound coil winding, balance armature and high speed bearings.
Timer: 0-15 minute timer, graduated in 1 minute increments. Automatic switch at zero
Weight: 5.1Kg net (without rotor)
Dimensions: 23.5cm height x 27cm diameter, footprint 16cm diameter
Construction: Aluminium casing with a steel lid
Finish: Body cream white baked enamel, with matt black baked enamel lid

The coagulometer, 

LabPad

® 

INR

, measures blood coagulation time thanks to a patented optical technology. This portable In-Vitro Diagnostics (IVD) device works with the Tsmart® 

INR

 single-use microcuvettes.

User-friendly: the 

LabPad

® INR is designed to be easy to use especially thanks to its 3D-shaped microcuvette that only requires a small drop of blood from a fingertip. Thanks to the color screen, both measurement steps and browsing the list of results are easy to visualize.

Quick and reliable: the reliability of INR results is obtained by quality controls that are performed automatically before each measurement. In less than one minute, you can see if you are in your therapeutic range.

Connected: the result obtained after performing the test can be transferred to healthcare professionals in charge of your treatment monitoring. This result is complementary to the pie charts and trend reports directly displayed on the 

LabPad

® INR to help you monitoring your treatment

 

The HDmicroscope is a versatile digital imaging solution that can be used for multiple tasks in day-to-day slide microscopy, digital image capture, and real-time imaging during live pathology consults or client discussions. The microscopy camera & monitor system is perfect for single use, teaching or group presentations without the need for a computer set-up. Feature Super bright daylight white LED and enhanced color correction provides stunning high-resolution images that can be digitally captured and archived for patient files and consultation. Highly adjustable exposure time and gain value from built-in camera make HDmicroscope optimal for fluorescent imaging. The external HDMI port allows you to connect directly to a HD monitor for live/real time viewing. You can also capture and save images to an SD card, all without being connected to a computer. With parfocal lenses, auto-gain, and exposure, a change in magnification delivers a perfect picture every time. Uncompressed full 1080p 60fps video for seamless live viewing, recording, or streaming without any lag time. Control the camera with a click of a mouse rather than searching for buttons on the camera. The trinocular eye tube accommodates the HD imaging system to create a complete full-screen or split-screen digital experience. With 60fps HDMI and 30fps USB 2.0 data transfer at 1920x1080 resolution, the Excelis HD camera is one of the fastest HD 1080p cameras on the market today.   Technical Specification

Dimensions:75 (with screen) x 11.00 (with screen) x 14.50 inches (HxWxD)
Head: Siedentopf binocular viewing head, inclined 30°
Nosepiece: Reversed quadruple nosepiece
Focusing system: Coaxial coarse & fine focusing system, with stop limit & tension adjustment. Travel range: 25mm. Fine focusing precision: 0.002mm
Condenser: Built-in Koehler illuminator systems, pre-centered. Iris diaphragm Koehler illuminator condenser and mirror optional
Optical system: AIS E-Plan optical system
Eyepiece: PL10X/20mm diopter adjustable eyepiece, 20mm field of view
Objective: AIS E-Plan achromat objective (4X, 10X, 40X, 100X)
Stage: Built in low position coaxial control mechanical stage, area 140x132mm, moving range 76x50mm
Illuminator: Universal power supply 90~240V voltage, 3W LED light with variable intensity control

Features:

Microprocessor control.
Digital display setting and actual temperature.
Over temperature alarm, PID self-tuning.
Digital display running timer.
Stainless steel interior.
Electricity leakage protection.
With glass inner door, With hidden door locks.
Mechanical overheat protection, cut off the heating sources.
Automatic alarm after operation.
Suitable for constant temperature tests.
Suitable for bacteria cultivation, breeding, ferment.

Technical Specification: Model: IB-9025A Working size: 250x250x250mm/9.84x9.84x9.84inch Power: 150W Temperature range: Room temperature+5~65℃ Temperature resolution: 0.1℃ Temperature fluctuation: ±0.5℃ Timer: 0-9999min Voltage: 110V 60Hz / 220V 50Hz Dimension: 380x370x580mm/14.96x14.57x22.83inch Size: 52cm*46cm*75cm / 20.5in*18.2in*29.6in Gross Weight:42kg / 93lb Net Weight: 23kg / 51lb Warranty: 1 year
The advanced B111 Bilirubinmeter provides fast, accurate results for Total bilirubin level in neonates with only 40μl serum or plasma sample. It determines total bilirubin by dual wavelength photometric analysis. Suited for pediatric setups, small workload labs & hospitals because of its compact and portable design. Advanced, benchtop and precise instrument for measuring Total Bilirubin. Feature

Auto zero function: Manual blanking not required
Dual wavelength measurement system:
2 wave lengths 455nm and 575nm
Plays major role to remove the interference caused due to Hemolysis & turbidity of sample
LED Light source:
LED does not require replacement as it lasts longer
As compared to Lamp, LED are more suitable as there is no intensity fluctuations
No warm up time required.
Flexible unit selection:
Two units either mg/dl or umol/L are selectable, ease of reporting
Compact slot for Capillary:
Accuracy of results are directly related to proper alignment of Capillary
B-111 has the easiest mode to ensure precise values
Data transfer:
External device can be connected to instrument through RS232 por
USB port

Technical Specification

Light source - LED

Wavelength - 455nm and 575nm
Net weight - 1kg
Measuring range - 0-30 mg/dl , 510 umol/L
Display - 16×2 LCD module with backlight
Auto calibration - Yes
Sample type - Serum or plasma
Sample volume - 40-80μL
Test time - <5sec
Units - mg/dl or umol/L
Dimensions - 150 (W) × 115 (H) × 190 (D) mm
Interface - RS232
Reading cuvette - Heparinized micro capillary holder
Storage temperature - 15-40°c
Power supply - DC 9V(DC adapter)
Power consumption - <2W

Weight
N/A
N/A
N/A
N/A
N/A
N/A
Dimensions
N/A
N/A
N/A
N/A
N/A
N/A
Additional information