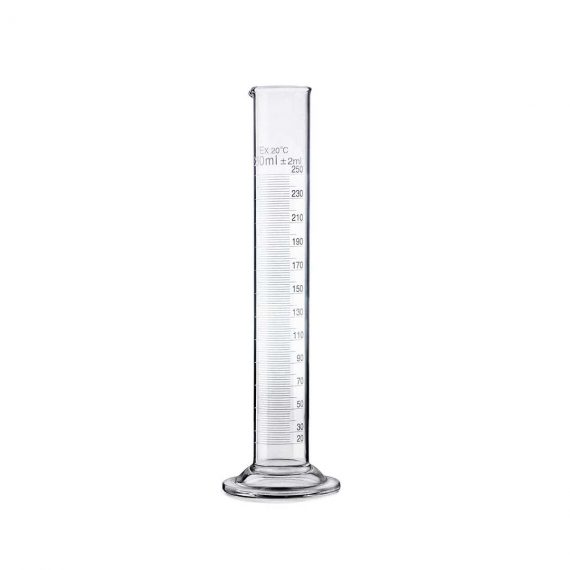 Glass Measuring Cylinder 250ml
In stock
| | |
| --- | --- |
| Brand Name | Sciencent |
| Capacity | 250.0 milliliters |
| Material | Glass |
| Number of Items | 1 |
| Part Number | SC-35 |
| Size | XL |
| Specification Met | |
| UNSPSC Code | 41000000 |
Delivery & Availability:
Typically 5-7 working days – excluding furniture and heavy/bulky equipment. Please contact us for further information.
Description
250ml Glass Graduated Lab Cylinder, made of Thick Borosilicate Glass for Durability

Durable and Chemical resistant with 3.3 borosilicate glass for premium quality, strength and transparency, which can handle any high pressures and temperatures from the most harsh chemicals to extreme heating agents.

Internal diameter of 37mm Approx

Comes with Spout for easy pouring, and prevent chemical spills.

Laboratory Grade Cylinder, but feel free to be creative with it!
| | |
| --- | --- |
| Brand Name | Sciencent |
| Capacity | 250.0 milliliters |
| Material | Glass |
| Number of Items | 1 |
| Part Number | SC-35 |
| Size | XL |
| Specification Met | |
| UNSPSC Code | 41000000 |
Quick Comparison
Settings
Glass Measuring Cylinder 250ml

remove

Conical Glass Flask 1000ml

remove

Plastic Test Tube Rack

remove

Conical Glass Flask 500ml

remove

Glass Measuring Cylinder 1000ml

remove

Chemical Weighing Balance

remove

Name
Glass Measuring Cylinder 250ml

remove

Conical Glass Flask 1000ml

remove

Plastic Test Tube Rack

remove

Conical Glass Flask 500ml

remove

Glass Measuring Cylinder 1000ml

remove

Chemical Weighing Balance

remove

Image
SKU
SF1033560084-162
SF1033560084-157
SF1033560084-174
SF1033560084-159
SF1033560084-164
SF1033560084-190
Rating
Price
Stock
Availability
Add to cart
Description

In stock

| | |
| --- | --- |
| Brand Name | Sciencent |
| Capacity | 250.0 milliliters |
| Material | Glass |
| Number of Items | 1 |
| Part Number | SC-35 |
| Size | XL |
| Specification Met | |
| UNSPSC Code | 41000000 |

Delivery & Availability: Typically 5-7 working days – excluding furniture and heavy/bulky equipment. Please contact us for further information.

In stock

| | |
| --- | --- |
| Capacity | 1000ml |
| Application | Chemical Laboratory |
| Brand | Lab Glass |
| Material | Glass |
| Color | Transparent |

Delivery & Availability: Typically 5-7 working days – excluding furniture and heavy/bulky equipment. Please contact us for further information.

In stock

Sturdy high-impact plastic rack will hold from 6 to 31 test tubes up to 25mm in a diameter

Easy to assemble

Chemical resistant

Delivery & Availability: Typically 5-7 working days – excluding furniture and heavy/bulky equipment. Please contact us for further information.

In stock

Measuring flask
Conical shape with long neck, ideal for swirling
Lined with metric increments up to 500ml
Reinforced rim
Ideal for measuring and mixing spirits and cocktail ingredients
Great for molecular mixology and molecular gastronomy
Dishwasher safe

Delivery & Availability: Typically 5-7 working days – excluding furniture and heavy/bulky equipment. Please contact us for further information.

In stock

Class B (+/-10ml)

Graduations: 10ml, 100ml to 1000ml

O.D. x Height: 66 x 458mm (2.5 x 18in) (approx.), Base: 125mm (5 in)

Type 1 Class A Borosilicate 3.3 Glass

Capacity in accordance with ASTM E-1272

Delivery & Availability: Typically 5-7 working days – excluding furniture and heavy/bulky equipment. Please contact us for further information.

In stock

This is a 210g/0.001g Analytical electronic chemical balance for industrial and scientific field.

Delivery & Availability: Typically 5-7 working days – excluding furniture and heavy/bulky equipment. Please contact us for further information.
Content

250ml Glass Graduated Lab Cylinder, made of Thick Borosilicate Glass for Durability

Durable and Chemical resistant with 3.3 borosilicate glass for premium quality, strength and transparency, which can handle any high pressures and temperatures from the most harsh chemicals to extreme heating agents.

Internal diameter of 37mm Approx

Comes with Spout for easy pouring, and prevent chemical spills.

Laboratory Grade Cylinder, but feel free to be creative with it!

| | |
| --- | --- |
| Brand Name | Sciencent |
| Capacity | 250.0 milliliters |
| Material | Glass |
| Number of Items | 1 |
| Part Number | SC-35 |
| Size | XL |
| Specification Met | |
| UNSPSC Code | 41000000 |

| | |
| --- | --- |
| Capacity | 1000ml |
| Application | Chemical Laboratory |
| Brand | Lab Glass |
| Material | Glass |
| Color | Transparent |

Sturdy high-impact plastic rack will hold from 6 to 31 test tubes up to 25mm in a diameter

Easy to assemble

Chemical resistant

Measuring flask
Conical shape with long neck, ideal for swirling
Lined with metric increments up to 500ml
Reinforced rim
Ideal for measuring and mixing spirits and cocktail ingredients
Great for molecular mixology and molecular gastronomy
Dishwasher safe

Class B (+/-10ml)

Graduations: 10ml, 100ml to 1000ml

O.D. x Height: 66 x 458mm (2.5 x 18in) (approx.), Base: 125mm (5 in)

Type 1 Class A Borosilicate 3.3 Glass

Capacity in accordance with ASTM E-1272

| | |
| --- | --- |
| Capacity | 1000.0 milliliters |
| Ean | 0817556011295 |
| Graduation Interval | 10.00 milliliters |
| Item Weight | 1.93 pounds |
| Material | Borosilicate Glass |
| Number of Items | 1 |
| Part Number | 213I15 |
| Size | Single |

This is a 210g/0.001g Analytical electronic chemical balance for industrial and scientific field.

Specifications: 110g/0.001g, 210g/0.001g

Sensor's Technology method:

Strain gauge
Stainless steel pan size: ø90mm
Minimum weighing value: 0.003g
Resolution: 0.001g
Linearity: ±0.003g
Stabilization time: ≤ 2S
Sensitivity drift: ±0.003g
Weighing Units: g, oz, ct, mg
Operating Temperature: 17 C - 25  degree
Display Refresh time: 0.3 secs
External calibration weight free with scale: 100g, 200g
Counting feature: Yes

Display:

LCD

Wind proof (shield) dimension:

170*190*170mm
Outlook size: 270*195*285mm
Operation Key: ON/OFF, COUNT, ENTER, CAL, UNIT
Power: AC 220V 50Hz
Main parts: Cast Aluminum, wind proof, Calibration weight
Optional part: RS232, Printer

Inner packing: 415*285*430mm

Outer packing:

475*315*485mm
N.W.: 4kg

G.W.:

7kg

Weight
N/A
N/A
N/A
N/A
N/A
N/A
Dimensions
N/A
N/A
N/A
N/A
N/A
N/A
Additional information