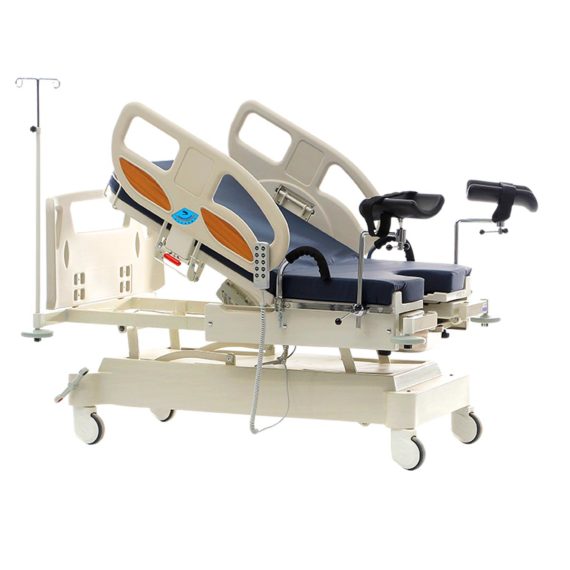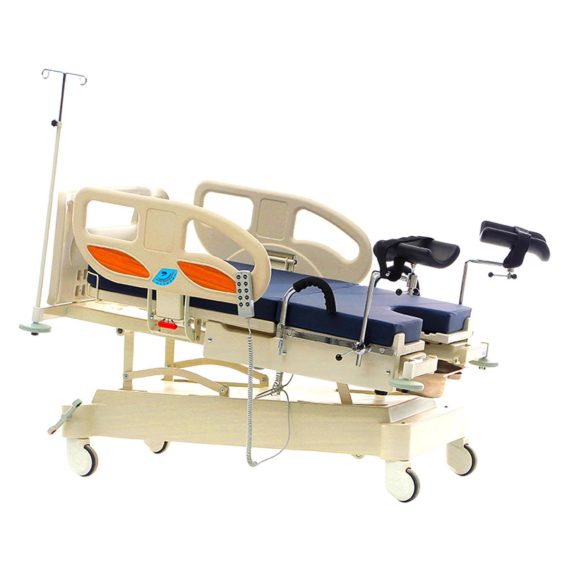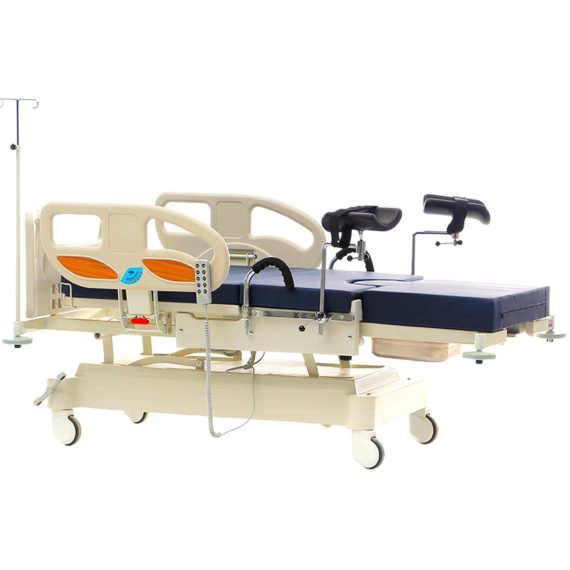 Linealife EDK-10 Delivery Bed
$0.00
Shipped from abroad
The EDK-10 Delivery Bed is a strong safe and versatile birthing platform designed for comfort and safety for mother during delivery. It is a LineaLife Furniture product, offering a durable and quality hospital bed with mattress.
Delivery & Availability:
Typically 5-7 working days – excluding furniture and heavy/bulky equipment. Please contact us for further information.
Description
DETAILS
• Head rest and height adjustement controlled by motors.
• Trendelenburg and reverse trendelenburg adjusted by
motors.
• Adjustable leg supports and handles.
• ABS side rails and boards.
• ABS mattress platform 2,5 mm min.
• Angle gauge for back.
• Extension adjusted with rails
• Accessories holders.
• Hand control unit.
• Central brake castors.
• Adjustable serum holder.
DIMENSIONS
• Backrest angle : 0 ⁰- 47 ⁰
• Trendelenburg angle : 0 ⁰-12 ⁰
• Reverse trendelenburg angle : 0 ⁰-15 ⁰
• Castor diameter: 125 mm
• Safe Working load capacity: 105 x211 cm
• Height (With mattress): 64,5-87,5 cm
For a Complete Furniture product catalogue
Click here to Download
Quick Comparison
Settings
Linealife EDK-10 Delivery Bed

remove

Electric Suction Machine

remove

Orthopedic Bed (Two Crank)

remove

Foyomed Nasal Oxygen Cannula

remove

Timesco Jumper Fingertip Pulse Oximeter

remove

Linealife Faultless - 3500 Hospital Bed with Column Motors

remove

Name
Linealife EDK-10 Delivery Bed

remove

Electric Suction Machine

remove

Orthopedic Bed (Two Crank)

remove

Foyomed Nasal Oxygen Cannula

remove

Timesco Jumper Fingertip Pulse Oximeter

remove

Linealife Faultless - 3500 Hospital Bed with Column Motors

remove

Image
SKU
SF1033560001
SF1033560084-16
SF1033560084-263
SF1033560084-24
SF1033560084-2
SF1033560102-1
Rating
Price

$0.00

$0.00

Stock
Availability
Add to cart
Description

Shipped from abroad

The EDK-10 Delivery Bed is a strong safe and versatile birthing platform designed for comfort and safety for mother during delivery. It is a LineaLife Furniture product, offering a durable and quality hospital bed with mattress. Delivery & Availability: Typically 5-7 working days - excluding furniture and heavy/bulky equipment. Please contact us for further information.

In Stock

Power consumption: 120W

Maximum negative pressure: ≥0.09 MPa

Pump rate: ≥20 L/min

Noise: ≤60 dB

Continuous Working Time: 0-30 min

Bottle volume: 2500 ml, 2 pcs

Delivery & Availability:

Typically 2 working days – excluding furniture and heavy/bulky equipment. Please contact us for further information.

In stock

Description 1. Manual Backrest, leg, knee 2. Detachable orthopedic traction shelf is under each side of bed head and bed foot 3. Foldable Crank, A.B.S. screw handle. Anti crash system

Delivery & Availability: Typically 5-7 working days – excluding furniture and heavy/bulky equipment. Please contact us for further information.

In Stock

Foyomed Nasal Oxygen Cannula: The nasal cannula are used for patients needing only low-flow supplemental oxygen.  Patients with breathing difficulties and conditions such as emphysema or other pulmonary pathologies require the nasal cannula.  The flow rate for the cannula is around .5 to 4 liters per minute (LPM). All materials used in construction of the Oxygen Mask ,and the Oxygen Tubing are latex free, soft and smooth surface without sharp edge and object, They have no undesirable effects on the Oxygen/Medication passing through under ordinary conditions of use. Mask Material are hypoallergenic and shall resist ignition and rapid buring. Delivery & Availability: Typically 2 working days – excluding furniture and heavy/bulky equipment. Please contact us for further information.

In Stock

Integrated with SPO2 probe and processing display module. Small in volume、light in weight and convenient in carrying. Operation of the product is simple ,low power consumption. SPO2 , PR and Ridisplay,. Pulse rate value display, bar graph display. Low-voltage indication: low-voltage indicator appears before working abnormally which is due to low-voltage. Automatically power off function: when the device is under the state of measuring interface . it will automatically power off within 5 seconds if the finger falls out of probe. Delivery & Availability: Typically 2 working days – excluding furniture and heavy/bulky equipment. Please contact us for further information.

Shipped from Abroad

Delivery & Availability: Typically 21 working days – excluding furniture and heavy/bulky equipment. Please contact us for further information.
Content
DETAILS • Head rest and height adjustement controlled by motors. • Trendelenburg and reverse trendelenburg adjusted by motors. • Adjustable leg supports and handles. • ABS side rails and boards. • ABS mattress platform 2,5 mm min. • Angle gauge for back. • Extension adjusted with rails • Accessories holders. • Hand control unit. • Central brake castors. • Adjustable serum holder. DIMENSIONS • Backrest angle : 0 ⁰- 47 ⁰ • Trendelenburg angle : 0 ⁰-12 ⁰ • Reverse trendelenburg angle : 0 ⁰-15 ⁰ • Castor diameter: 125 mm • Safe Working load capacity: 105 x211 cm • Height (With mattress): 64,5-87,5 cm For a Complete Furniture product catalogue Click here to Download
Specification :

Voltage: AC 220V, 50Hz or 110V, 60Hz

Power consumption: 120 W

Maximum negative pressure: ≥0.09 MPa

Negative pressure range: 0.02 MPa to Max negative pressure

Pump rate: ≥20 L/min

Noise: ≤60 dB

Continuous Working Time: 0-30 min

Rest Time≥30min

Bottle volume: 2500 ml, 2 pcs

Accessory: pedal switch (1pc), power switch(1pc),

filter(2 pcs), suction pipe(1pc, 2m in length, silica gel),

celiac suction pipe(1pc, 31cm in length, chrome copper)

Package: 1pc/carton

Box Size : 46.5*41.5*64.5cm

Net Weight: 11.5KGS

Gross Weight:13.8 KGS

Description 1. Manual Backrest, leg, knee 2. Detachable orthopedic traction shelf is under each side of bed head and bed foot 3. Foldable Crank, A.B.S. screw handle. Anti crash system. Specifications 1. Backrest adjustment: ≥70º 2. Knee adjustment: ≥35º 3. Size: L2150*W900*H500mm Accessories 1. I.V. Pole 2. Drainage hooks 3. Infusion holder 4. 125mm diameter central self-locking caster. 5. Transparent Acrylic head card.
Foyomed Nasal Oxygen Cannula: The nasal cannula are used for patients needing only low-flow supplemental oxygen.  Patients with breathing difficulties and conditions such as emphysema or other pulmonary pathologies require the nasal cannula.  The flow rate for the cannula is around .5 to 4 liters per minute (LPM). All materials used in construction of the Oxygen Mask ,and the Oxygen Tubing are latex free, soft and smooth surface without sharp edge and object, They have no undesirable effects on the Oxygen/Medication passing through under ordinary conditions of use. Mask Material are hypoallergenic and shall resist ignition and rapid buring. Features:

Material: clear, non-toxic PVC.
A single-use, disposable nasal cannula.
A highly flexible and lightweight piece with two prongs.
Comes in an over-the-ear design to ensure premium comfort.
Available with an anti-crush, 7 ft tubing.
Different types of prongs are available.
A must-have medical equipment for hospitals and more.

Integrated with SPO2 probe and processing display module • Small in volume, light in weight, convenient in carrying • Simple operation, lower power consumption • OLED screen display • SPO2, PR, bar graph of pulse, plethysmogram, blood perfusion index, battery indication display • 4 directions display, 6 display models, large fonts display • Brightness control, Demo mode, Setup menu • Movement interference • Alarm function and adjustable alarm parameters • Can be connected to mobile phones through Bluetooth; can support Android and iOS client • Auto power-off when no signal after 10s • Powered by 2*AAA alkaline batteries Specification: • Size: 62 x 37 x 32mm • Peak wavelength range of the light emitted from the probe: red light 660nm±3; infrared light 905nm±5 • Maximum optical output power of the probe: 1.2mW for infrared light (905nm) • Bluetooth module: 4.0 (single-mode) • Working temperature: 5℃ to 40℃ (41°F to 104°F) • Relative humidity: 15% to 80%, non-condensing • Atmospheric pressure: 70kPa to 106kPa • Rated voltage: DC 3V Package included: • 1 x JUMPER JPD-500F Bluetooth Fingertip Pulse Oximeter • 2 x AAA Batteries • 1 x Carry Case • 1 x Lanyard • 1 x English User Manual
Features: • Electrical operated backrest, height and legrest adjustment. • Electrical operated trendelenburg , reverse trendelenburg, fowler and vasculer position. • Nurse control unit. • Auto-CPR and manuel CPR. • Retracting backrest and legrest. • Hygenic design (PP), lockable and tuck away side rails. • Profile frame with easy removable ABS plastic covers. • Removable head and foot ends. • Central lockable castors. • Electrostatic painted metal frame. • Height adjustable I. V. stand. • Plastic crash bumpers. • Battery backup. • Comprehensive range of accessories avaliable. • Angle gauge for back. • Cardiac chair position with one button. • Shock position with one button. • Bed exit position with one button. • Dual sided control panel on side- rails. • Bed extension position 200 mm. • Linen holder. • Anti-static castor. • Grounding socket. • Distance between side rail and head board max. 58 mm. • Underbed light. • Cable holder. • Twin castors. (O) • Lifting Pole.(O) • Patient handset.(O) Dimensions: • Overall Length: 2160 mm • Overall width:990 mm • Height Range: 480-850 mm • Trendelenburg (Max.): 15 ⁰ • Reverse Trendelenburg (Max.):15⁰ • Backrest Angle (Max.): 78 ⁰ • Legrest Angle (Max.): 34⁰ • Castor diameter: 150 mm • Backrest sliding (Max.):120 mm • Legrest sliding (Max.): 85 mm
Weight
N/A
N/A
N/A
N/A
N/A
N/A
Dimensions
N/A
N/A
N/A
N/A
N/A
N/A
Additional information