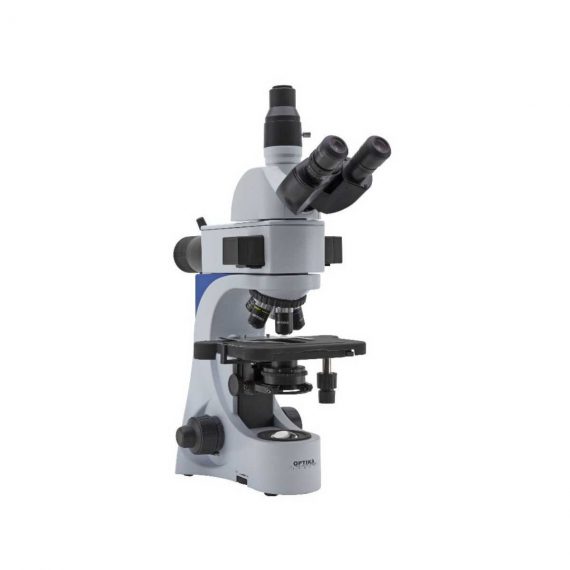 OPTIKA B-383LD1 Trinocular LED Fluorescence Microscope
0.00 €
Shipped from Abroad
Easily accessible controls, including the stage drive, fine focus and brightness control combined with Optika revolutionary ALC system grants maximum comfort and relaxed working conditions.
Delivery & Availability:
Typically 21 working days – excluding furniture and heavy/bulky equipment. Please contact us for further information.
Description
Product description:
B-380 Series
Upright laboratory microscopes.
Optical system & objectives:
The models of the B-380 series are equipped, depending on the version, with two different types of optical systems: the standard 160mm one and the infinity-corrected system (IOS). In both cases, the field diameter of the eyepieces is 20mm. The focuslenghth of the tube lens is 180 mm the parfocal length of the objectives is 45 mm.
Microscope stand:
Modern and ergonomic, this stand is made of die-cast aluminium. Coarse and fine focusing (graduation: 0.002mm) with coaxial control knobs. Adjustable focusing tension and limit stop.
Heads:
Available in binocular or trinocular version. The heads are equipped with interpupillary distance control (55-75 mm) as well with dioptric compensation. All heads are 360° rotatable and 30° inclined.
Illumination:
The illuminating system consists of X-LED source. The brightness can be adjusted by a rheostat located on the left side of the microscope base.
X-LED 3 – The future of illumination OPTIKA is proud to introduce its own revolutionary LED powered illumination system.
Developed by our R&D dept. it consists of a new combination of LED and optical technology. A new high-efficiency single chip LED works in combination with a special optical lens, which allows to double the intensity of the light generated by the LED itself. The result is a quantity of light equivalent to the light generated by a standard 50W halogen bulb, but with a colour temperature of 6300K. It means white light instead of the yellow one produced by halogen bulbs.
The electrical consumption (3.6W only) shows the high efficiency of the system: the same light intensity with less than 10% of the consumption of a standard halogen bulb. Last but not least, the lifetime of our LED is 50.000 hours, instead of 1.500 hours.
Optics
Eyepiece
WF10X/20mm
Lens type
E Plan; infinity-corrected; 4 (N.A. 0.10, W.D. 13.8 mm), 10 (N.A. 0.25, W.D. 7.1 mm), 40 (N.A. 0.65, W.D. 0.3 mm), 50 (N.A. 0.75) without cover glass
Lamp type
LED
Condensor
Abbe push-in sub-stage condenser, (NA 1.25), with centering
Lighting
Incident light and transmitted light
Magnification
500 (40, 100, 400, 500)
Capacity
Temperature of color (K)
6300 K
Lamp type
High-Power blue LED for epifluorescence
Fluorescence
yes
brightfield
yes
Mechanics
Type of build
Trinocular
Focusing
Coarse and fine movement
Viewing posture (°)
0.002mm graduation, with locking function as object protection
Special features
Centering stage
yes
Wide-angle eyepiece
yes
General
Width (mm)
210
Colour
grey/black
Weight (kg)
5
Height (mm)
480
Series
B-380
Length (mm)
370
Field of application
Biology and Medicine
yes
Area of application
Dark field
–
Fluorescence
yes
Interference contrast
–
Metallurgy
–
Phase contrast
–
Polarization
–
Biology, zoology & botany
yes
University
yes