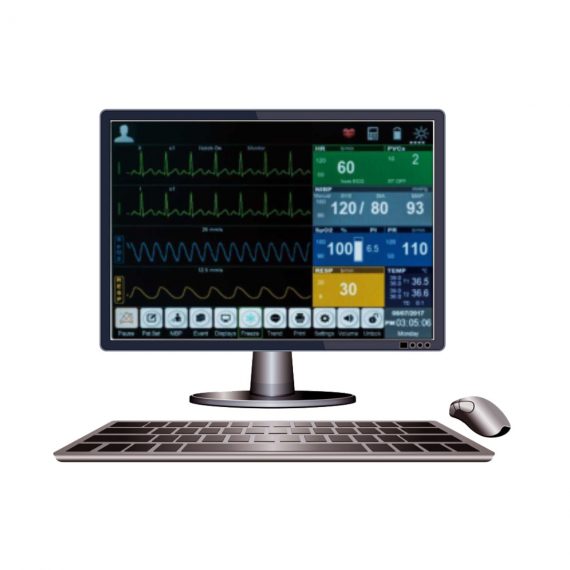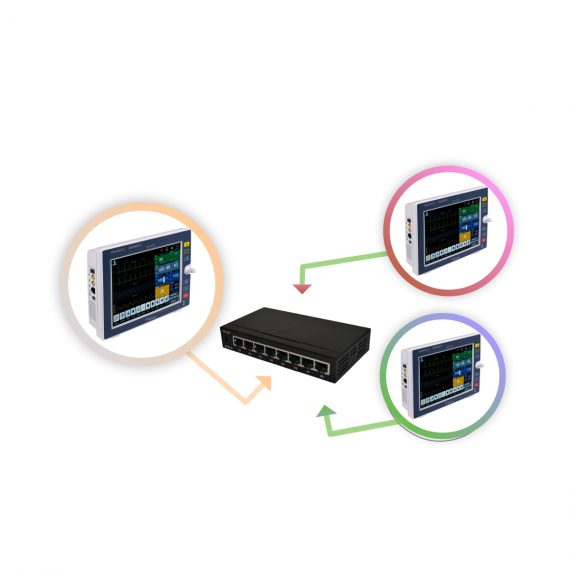 Bistos Central Monitoring System
Shipped from Abroad

Bistos Patient Central Monitoring System Software the monitor assistant has some functions below:
Up to 10 and above bedside monitors connectable display of holographic waveforms of the view bed of single bedside monitor; display of ECG.RESP.CO2.PLETH IBP waveforms and so on.

Alarm manage: parameter alarm events for each bedside monitor; S-T segment alarm events; arrhythmia alarm events. Alarm prompt modes: sound and light wave.

Storage and review of 24-hour holographic waveforms.
Delivery & Availability:
Typically 14 – 21 working days – excluding furniture and heavy/bulky equipment. Please contact us for further information.
Description
Central Monitoring System can be defined as a continuous observation or monitoring of a patient vital sign during treatment while on life support equipment for the purpose of guiding management decisions, including when to make therapeutic interventions and assessment of those interventions.
Central monitoring system involves the connectivity of patient monitors together on a network which enables healthcare givers to monitor patients recovery progress from another remote location over a local or wide area network.
Bistos Patient Central Monitoring System Software the monitor assistant has some functions below:
Up to 10 and above bedside monitors connectable display of holographic waveforms of the view bed of single bedside monitor; display of ECG.RESP.CO2.PLETH IBP waveforms and so on.

Alarm manage parameter alarm events for each bedside monitor; S-T segment alarm events; arrhythmia alarm events. Alarm prompt modes: sound and lightwave.

Storage and review of 24-hour holographic waveforms

Storage and review of up to 240-hour trend data for each bedside monitor

Storage and review of u to 720-item alarm events for each bedside monitor

Review of five parameters and 6minutes short trend for each bedside monitor

All the review information will be stored under off-state

Display of continuous multi-lead ECG and single-lead arrhythmia analysis for each bedside monitor.

Trend records and alarm records can be output according to a certain format.

Patient information management: receive cancel input and educe

Central Monitoring System gather function: relying on the data transmission the system has the capability that in different position could simultaneously monitor the bedside monitors in the courtyard

All-round system help information including operation guide of this system and bedside monitor.

Multi-language display interface support screen (dual-screen display) Support keyboard and mouse input
Bistos Patient Central Monitoring Specification:
System Configuration Demand
1. Computer configurationCPU: 1GHz or aboveMemory: 4G or aboveHard disc: 500GB or aboveNIC: 100M self-adaptiveSound card: 16-bitMonitor: 19 inch or above Operating system: WINDOWS 7 or above
2. Printing system: printer
3. Switch/ Hub: 10M/100M self-adaptive
4. Network cable: Straight-through cables (same colour definition for the 2 ends)