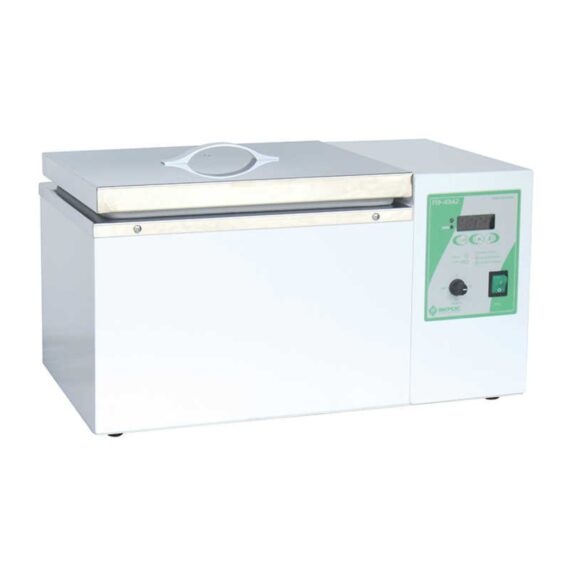 Digital oil bath PE-4342 (11 L)
₦0.00
Shipped From Abroad

Laboratory Digital Oil Bath PE-4342 is intended to handle a wide range of laboratory procedures for industrial, biochemical and scientific research. The instrument is designed for accurate temperature control between ambient +10°С up to 250°С
Delivery & Availability:
Typically 14-21 working days – excluding furniture and heavy/bulky equipment. Please contact us for further information.
Description
Laboratory Digital Oil Bath PE-4342 is intended to handle a wide range of laboratory procedures for industrial, biochemical and scientific research. The instrument is designed for accurate temperature control between ambient +10°С up to 250°С.
Technical specifications:
Supply voltage, V – 220±10%
Maximum power consumption, W – 1500
Operating temperature range, ambient, °С – + 10 to 250
Temperature accuracy, °С – 0.1
Temperature uniformity, °С – ±1.5
Temperature non-uniformity, °С – ±3.0
Bath volume, L – 11
Inside bath dimension (WхDхH), cm – 30х22х17
Dimension (WхDхH), cm – 55х31х33
Weight, not more than, kg – 18
Operating conditions:
Ambient air temperature, °С – 5 to 35
Relative air humidity, % – up to 80
Allowable time of continuous work, hours – unlimited
Scope of delivery:
– PE-4342 series Oil Digital Bath – 1 pc
– Stainless steel 304 (AISI 304) Lid – 1 pc
– Heater cover – 1 pc
– Power cable – 1 pc
– Data Sheet and Operating Manual – 1 pc