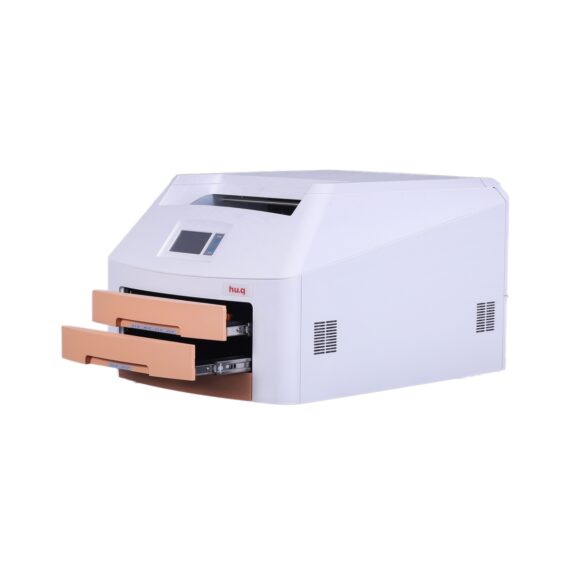 HU.Q hq-760dy Dry Image X-Ray Film Printer (Mammo)
₦0.00
Shipped From Abroad

The HQ-760DY Dry Imager is a thermo-graphic film processor designed for digital radiography imaging. It is the one and only domestically engineered medical dry thermal imager
Delivery & Availability:
Typically 14-21 working days – excluding furniture and heavy/bulky equipment. Please contact us for further information.
Description
The HQ-760DY Dry Imager is a thermo-graphic film processor designed for digital radiography imaging. It is the one and only domestically engineered medical dry thermal imager.  The HQ-DY series Dry Imager uses the latest direct dry thermal imaging technology which accommodates for a full range of applications, including CT, MR, DSA and US, as well as CR/DR applications for GenRad, Mammography, Orthopaedics, Dental Imaging and more. The HQ-Series Dry Imager dedicates to precision in diagnosis with its outstanding image quality, and offers affordable imaging catering to your needs.
– Supports Mammography
– Dry thermal technology
– Daylight load film cartridges
– Double tray, supports 4 film sizes
– Speed printing, higher efficiency
– Economical, stable, reliable
– Compact design, easy installation
– Straight forward operation, user-friendly
Technical Specification:
| | |
| --- | --- |
| Print Technology | Direct thermal (dry, daylight-load film) |
| Spatial Resolution | 508dpi (20pixels/mm) |
| Grayscale Contrast Resolution | 14 bits |
| Film Tray | Two supply trays, 200-sheet capacity total |
| Film Sizes | 8''×10'', 10''×12'', 11''×14'', 14''×17'' |
| Applicable film | Medical Dry Thermal Film (blue or clear base) |
| Interface | 10/100/1000 Base-T Ethernet (RJ-45) |
| Network Protocol | Standard DICOM 3.0 connection |
| Image Quality | Automatic calibration using built-in densitometer |
| Control Panel | Touch Screen, Online Display, Alert, Fault and Active |
| Power Supply | 100-240VAC  50/60Hz  600W |
| Weight | 50Kg |
| Operating Temperature | 5℃-35℃ |
| Storage Humidity | 30%-95% |
| Storage Temperature | -22℃-50℃ |