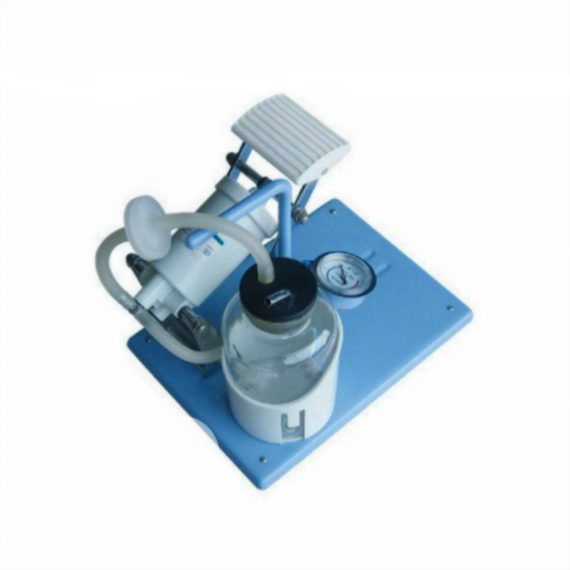 Manual Suction Machine (Pedal)
In stock
| | |
| --- | --- |
| Operation Mode | Manual |
| Usage | Hospital, Clinic |
| Application | Dental, Surgery |
| Features | High Vacuum, Mobile Suction Units, Portable, Hand Held Suction Units |
Delivery & Availability:
Typically 5-7 working days – excluding furniture and heavy/bulky equipment. Please contact us for further information.
Description
Pedal Suction offered by us is primarily used in hospitals of all levels for suction of phlegm, blood and other thick liquid during surgical operations and induced abortions. Due to its compact size, lightweight and trouble-free operation and it particularly fits for being extensively used in rural clinics, no power area, homes, remote areas, and other emergency occasions.
Features:
Long functional life
Sturdy design
Can be operated without power
Easy operations
Quick Comparison
Settings
Manual Suction Machine (Pedal)

remove

Sonoscape S11 Ultrasound Machine

remove

ASPEL Ambulatory BP Machine

remove

ASPEL AsCARD Grey ECG Machine

remove

ASPEL Stress ECG with Treadmill and Software

remove

Sonoscape S8 Exp Portable Ultrasound

remove

Name
Manual Suction Machine (Pedal)

remove

Sonoscape S11 Ultrasound Machine

remove

ASPEL Ambulatory BP Machine

remove

ASPEL AsCARD Grey ECG Machine

remove

ASPEL Stress ECG with Treadmill and Software

remove

Sonoscape S8 Exp Portable Ultrasound

remove

Image
SKU
SF1033560084-171
SF1033560012-1
SF1033560075-13
SF1033560075-5
SF1033560075-2
SF1033560012-15
Rating
Price

$0.00

$0.00

$0.00

Stock
Availability
Add to cart
Description

In stock

| | |
| --- | --- |
| Operation Mode | Manual |
| Usage | Hospital, Clinic |
| Application | Dental, Surgery |
| Features | High Vacuum, Mobile Suction Units, Portable, Hand Held Suction Units |

Delivery & Availability: Typically 5-7 working days – excluding furniture and heavy/bulky equipment. Please contact us for further information.

In Stock

A Value Choice beyond Your Expectation. SonoScape's trolley color Doppler system S11 redefines price and performance with practical design. The S11 will go beyond your expectations but not your budget. Delivery & Availability: Typically 2 working days – excluding furniture and heavy/bulky equipment. Please contact us for further information.

Shipped from Abroad

ASPEL Ambulatory BP Machine - is a recorder of long-term records of non-invasive measurement of blood pressure intended for use in clinics, hospitals, outpatient centers and specialist surgeries. The recorder enables the assessment of blood pressure by the oscillometric method in adult patients, pregnant women, including preeclampsia and pediatric patients (from 3 years of age). Blood pressure is assessed by using an inflatable cuff, an accurate pressure transducer, and a deflation valve. Delivery & Availability: Typically 10 working days – excluding furniture and heavy/bulky equipment. Please contact us for further information.

Shipped from Abroad

Electrocardiograph AsCARD Grey v.07.225 - is a 1, 3, 6, 12 channel ECG unit which enables to make electrocardiogram in full 12 leads. It is intended to conduct ECG examinations of adults and paediatric patients in all types of health care centres. ECG examination may be recorded in manual or automatic mode, with the possibility of analysis and interpretation. The device can be powered from 100 V ÷ 240 V mains supply or by an internal battery. Delivery & Availability: Typically 10 working days – excluding furniture and heavy/bulky equipment. Please contact us for further information.

Shipped from Abroad

 It is a system with professional tool dedicated to exercise and resting ECG examination. Treadmill has 12 lead ECG modules. With ECG Analyzing Software. Delivery & Availability: Typically 21 working days – excluding furniture and heavy/bulky equipment. Please contact us for further information.

Shipped from Abroad

With ultra-modern innovative design and the clinically-proven technologies, S8 Exp is portable ultrasound scanner well equipped as a low-physical-effort and enhanced-image-quality ultrasound scanner, which not only provides optimized solutions for versatile applications, but does help to improve the user-experience for both routine and non-traditional challenges. Delivery & Availability: Typically 5-7 working days – excluding furniture and heavy/bulky equipment. Please contact us for further information.
Content
Pedal Suction offered by us is primarily used in hospitals of all levels for suction of phlegm, blood and other thick liquid during surgical operations and induced abortions. Due to its compact size, lightweight and trouble-free operation and it particularly fits for being extensively used in rural clinics, no power area, homes, remote areas, and other emergency occasions. Features:

Long functional life
Sturdy design
Can be operated without power
Easy operations

DETAILS SonoScape's trolley colour Doppler system S11 redefines price and performance with practical design. The S11 will go beyond your expectations but not your budget. As an easy-to-use ultrasound system, the S11 is integrated with a new software platform, especially optimized for a smooth workflow and convenient operation. The system speeds up the exam process and makes file management easier. SPECIFICATION - 15-inch high definition LCD monitor with articulating arm - Compact and agile trolley design - 3 active transducer sockets available for a wide range of applications - Duplex, Color Doppler, DPI, PW Doppler, tissue harmonic imaging, μ-scan speckle reduction imaging, compound imaging, trapezoidal imaging - Customized settings based on your own working style - Full patient database and image management solutions
ASPEL Ambulatory BP Machine - is a recorder of long-term records of non-invasive measurement of blood pressure intended for use in clinics, hospitals, outpatient centers and specialist surgeries. The recorder enables the assessment of blood pressure by the oscillometric method in adult patients, pregnant women, including preeclampsia and pediatric patients (from 3 years of age). Blood pressure is assessed by using an inflatable cuff, an accurate pressure transducer, and a deflation valve. Features: Save-2-Safe: Double security system Thanks to the use of two independent measuring systems with an additional valve, it meets the highest standards and takes care of patient safety even better. Start-Easy: Quick start in two moves The quick launch function allows you to use the device instantly, easily allows you to start recording in holter mode. Memo-Care: Cuff pressure memory Recorder remembers the pressure in the cuff. Thanks to the use of Intelligent Solutions, it adapts individually to the patient. Power-Usb: USB connection The device can work without batteries: by connecting to a computer via a USB cable. Technical Specification:

Measuring range - adult: 0-300 mmHg,  pediatric: 0-150 mmHg
Pressure sensor - yes
Battery - up to 168 hours (exam every 30 minutes)
Memory - 1000 examination
Measurement periods - 6
Activity / sleep definition - yes
Operating mode - adult / pediatric
Stationary work - USB powered only and manual control
Measurement recording schedule - yes (division into activity and sleep)
Quick start of the recorder - yes
Use - easy, programming without a computer
Cooperation - ASPEL 508 ABPM or HolCARD CR-07 software
Internal real time clock - yes
Keyboard - yes, with event button
Screen - OLED
Work without batteries - yes, via USB cable
Cuff pressure - numerical or graphic value
Exam results - systolic, diasolic, mean and HR pressure
Display of measurement errors - yes, in the form of warnings and codes
Menu - extended, information data, quick start, exam results, factory reset, configuration
Pressure gauge test function - yes
Leak test function - yes
Energy saving - yes
Power - 4x battery AA, USB port: 5VDC
Weight 0,190kg

Accessories:

Adult cuff, medium
Pressure cable
Cuff and pressure cable connector
Recorder bag with belt
LR6 (AA) alkaline batteries - 4 pcs.
Instruction manual

Electrocardiograph AsCARD Grey v.07.225 - is a 1, 3, 6, 12 channel ECG unit which enables to make electrocardiogram in full 12 leads. It is intended to conduct ECG examinations of adults and paediatric patients in all types of health care centres. ECG examination may be recorded in manual or automatic mode, with the possibility of analysis and interpretation. The device can be powered from 100 V ÷ 240 V mains supply or by an internal battery.

Technical Specification:

1. Visualisation of 1, 3, 6 or 12 ECG waveforms, analysis results and interpretations, examinations stored in memory. 2. Recording of 12 standard leads. 3. Print out in 1, 3, 6 or 12 ECG waveforms mode. Printing of a selected group:

1 channel - (I, II, III, aVR, aVL, aVF, V1, V2, V3, V4, V5, V6),
3 channels in standard format - (I-II-III, aVR-aVL-aVF, V1-V2-V3, V4-V5-V6),
3 channels in Cabrera format - (aVL-I-aVR, II-aVF-III, V1-V2-V3, V4-V5-V6),
6 channels in standard format - (I-II-III-aVR-aVL-aVF, V1-V2-V3-V4-V5-V6),
6 channels in Cabrera format - (aVL-I-aVR-II-aVF-III, V1-V2-V3-V4-V5-V6),
12 channels in standard format - (I-II-III-aVR-aVL-aVF-V1-V2-V3-V4-V5-V6),
12 channels in Cabrera format - (aVL-I-aVR-II-aVF-III-V1-V2-V3-V4-V5-V6).

4. Available types of examinations: manual, AUTO, SPIRO, automatic to clipboard, AUTOMANUAL, LONG (v.07.xx5). 5. Automatic record ECG signal from all 12 leads simultaneously, with save to temporary memory function, then depending on the settings: print out examination's result, analysis, interpretation or save to database. 6. Adjustable length of automatic examination recording — interval of 6–30 seconds. 7. Reverse recording in automatic examination to clipboard and in manual examination (v.07.xx5). 8. Rhythm print out in AUTO examination and automatic examination to clipboard. 9. Definable stages of examination according to set up parameters in AUTOMANUAL examination. 10. Storing an examination in memory, 1–15 minutes in LONG mode (v.07.xx5). 11. ECG printed directly from the electrocardiograph using PCL5/6 printer. 12. Printout from database. Possibility to printout additional information about examination or patient. 13. Alpha-numerical soft-key keyboard with functional buttons. 14. Possibility to set parameters: speed, sensitive, intensity of printing. 15. Menu displayed on the screen for easy operation using touch panel. 16. Database of patients and examinations. Internal memory up to 1000 patients, 1000 examinations. 17. Viewing of the memory-stored examinations on display, with the possibility of changing the number of leads, augmentation and speed. 18. Automatic analysis and interpretation in compliance with EN 60601-2-51 (CSE database) - Analysis and interpretation dependable on age & sex of a patient. 19. Up to 130 automatic examinations in battery mode. 20. Continuous heart rate (HR) measurement and display. 21. Adapted to direct operation on an open heart. 22. Device allows to enable and disable the following filters:

power line interference filter; filters available: 50 Hz, 60 Hz,
muscle interference filter; filters available: 25 Hz, 35 Hz, 45 Hz,
contour line filters; filters available: 0.15 Hz, 0.45 Hz, 0.75 Hz, 1.5 Hz,
the low-pass filter (v.07.224, v.07.324, v.07.225, v.07.325): 75 Hz, 100 Hz, 125 Hz, 150 Hz,
the auto-adaptive filter (v.07.224, v.07.324, v.07.225, v.07.325).

23. Detection of electrode detachment, independent for each channel (INOP control). 24. Detection of cardiac stimulator. 25. Sound signalling of detected stimulations of heart stimulator. 26. Protection against defibrillation pulse. 27. ECG recordings optionally saved on PenDrive, send on email or to other AsCARD via EKG-MAIL. 28. Wireless communication with the LAN or the Internet (v.07.3xx). 29. Wired communication with the LAN or the Internet. 30. Cooperation with CardioTEKA and CardioTEL. 31. Possibility of accepting orders for examination and sending back the results in HL7 standard via Internet (v.07.3xx). 32. Possibility of conducting preliminary spirometry examinations by using SPIRO-31 attachment. 33. EMR – keep performed examinations in specified period of time on external data storage (USB memory).

Accessories

1. Limb electrodes, 4 pieces (EKK type). 2. Chest electrodes, 6 pieces (EPP type). 3. KEKG 30R ECG cable. 4. Main cable. 5. R-A4 paper, 112 mm wide (1 reel). 6. ECG gel. 7. Operation manual.

 It is a system with professional tool dedicated to exercise and resting ECG examination. Treadmill has 12 lead ECG modules. With ECG Analyzing Software. Technical Specification:

Simultaneous registration and observation of ECG signal from all 12 leads on PC screen,
Automatic measurement of HR, ST level and slope,
Printing and archiving examination report which contains: patient's data, the full disclosure ECG of the whole recording, selected strips, average P-QRS-T complexes, table summary, load value, HR, ST level and slope,
RAMP protocol
PMHR control
Digital filtration of mains disturbances
Digital filtration of muscle origin disturbances
Resting examination: 12, 6 or 3-channel in manual or automatic mode
Automatic regulation of isoelectric line position in the middle of registration channel
Automatic elimination of isoelectric line migration

CardioTEST Software:

excellent quality of ECG waveforms thanks to the use of digital filters eliminating the swimming of the isoelectric line and disruption of muscle origin,
uninterrupted recording and presentation of 12-lead ECG signal, presentation of averaged P-QRS-T units with 12 leads along with the results of ST level and slope measurements,
automatic HR measurement, ST level and ST segment slope,

automatic control of cycloergometer and treadmill load,
archiving and printing of the research report,
automatic determination of measuring points with the possibility of manual correction,
automatic arrhythmia analysis,
presentation of parameters regarding: test phase, current load, stage time and total effort time,
monitored parameters: rhythm rate, MET, double product, blood pressure, level, ST segment slope and load,
real-time ECG printout,
preview of trends of all measured parameters during the test,
alarm system for monitored parameters and arrhythmia,
an option to automatically measure blood pressure,
archiving and printing a report enabling a reliable assessment of the study (such an report contains ECG, average P-QRS-T assemblies and a table with measurement results),
standard test protocols and the ability to define your own protocols also in RAMP mode,
preview the report on the screen before printing the report,
function of reanalysis of the performed test,
presentation of 3D trends illustrating ST segment changes.

Sonoscape S8 Exp Portable Ultrasound scanner

DETAILS Agile and Versatile With ultra-modern innovative design and the clinically-proven technologies, S8 Exp Portable Ultrasound scanner is well equipped as a low-physical-effort and enhanced-image-quality ultrasound scanner, which not only provides optimized solutions for versatile applications but does help to improve the user experience for both routine and non-traditional challenges. Working with S8 Exp, it will trigger your unlimited reverie and endow you with endless charm. Carrying forward the classical design of SonoScape's portable ultrasound products, S8 Exp successfully combines the best ergonomics, attractive design and ease of use. This charismatic identity is also enhanced by a sophisticated color palette—with sedate grey as its interior paint color and pearl white as exterior cover, S8 Exp reveals a style of aristocrat and strong character among SonoScape's ultrasound systems. Workflow The S8 Exp is a portable ultrasound scanner that adapts to your workflow, whether you are in the consulting room, at the bedside, or at a remote location. With easy-to-use new platform designed for sonographers' needs and full connection interfaces for easy connectivity and data sharing, S8 Exp leads to improved user comfort and clinical outcome as well as patient throughput and working efficiency. Powerful Platform Embedded with SonoScape's core imaging technologies such as μ-scan, PHI and Spatial Compound, S8 Exp boasts exceptional 2D image, sensitive spectral, Color and Power Doppler, displaying well-defined anatomy and pathology and facilitating a highly optimized diagnostic user environment for conclusive diagnoses. Besides, S8 Exp offers a comprehensive selection of electronic probes to maximally extend its capabilities to meet a wide range of applications including the abdomen, pediatric, OB/GYN, cardiovascular, musculoskeletal, etc. The advanced probe technologies also effectively enhance the image quality and confidence in reaching clinical diagnoses even in difficult patients.
Weight
N/A
N/A
N/A
N/A
N/A
N/A
Dimensions
N/A
N/A
N/A
N/A
N/A
N/A
Additional information