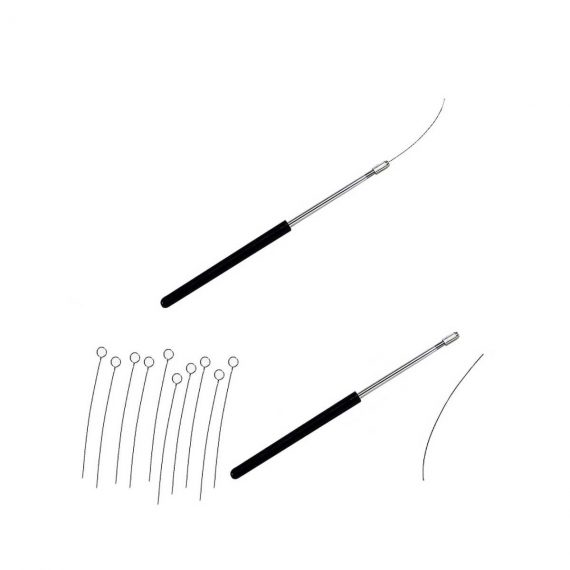 Wire Loop Holder
In stock
The inoculation holder is made of bakelite handle and nickel plated brass rod,the inoculating loop is made of durable nichrome. Vacuum-gas plasma surface treated, allowing liquid or solid culture medium to attach.These inoculating loops are very handy for transferring to and from test tube cultures in the lab,they are really useful tools in inoculating experiment.
Delivery & Availability:
Typically 5-7 working days – excluding furniture and heavy/bulky equipment. Please contact us for further information.
Description
 The inoculation holder is made of bakelite handle and nickel plated brass rod,the inoculating loop is made of durable nichrome,can be flame sterilizing

Easily manageable while being long enough to dissipate lots of heat,and good for hours of back-to-back platinge

Heat the loop until it glows then let it cool for about thirty seconds before touching your culture.Don't autoclave the bakelite handle,it can always be disinfected with ethanol

The grip portion of the handle is pliable and soft,highly durable and solid product without being overly heavy and a chore to use

Package include:1pcs 8.8′(22cm) inoculation rod and 50pcs 10ul inoculating tips(3mm diameter twisted wire loop and 55mm long)
Quick Comparison
Settings
Wire Loop Holder

remove

IISM VPism-D (Desk Type) Vein Probe

remove

Eppendorf Minispin Centrifuge

remove

Zenithlab (IB-9025A) Laboratory Incubator

remove

Skyla Hi POC Clinical Chemistry Analyzer

remove

Erma B-111 Bilirubin Meter

remove

Name
Wire Loop Holder

remove

IISM VPism-D (Desk Type) Vein Probe

remove

Eppendorf Minispin Centrifuge

remove

Zenithlab (IB-9025A) Laboratory Incubator

remove

Skyla Hi POC Clinical Chemistry Analyzer

remove

Erma B-111 Bilirubin Meter

remove

Image
SKU
SF1033560084-208
SF1033560090-2
SF1033560084-116
SF1033560084-109
SF1033560060-2
SF1033560084-6
Rating
Price

$0.00

$0.00

$0.00

$0.00

Stock
Availability
Add to cart
Description

In stock

The inoculation holder is made of bakelite handle and nickel plated brass rod,the inoculating loop is made of durable nichrome. Vacuum-gas plasma surface treated, allowing liquid or solid culture medium to attach.These inoculating loops are very handy for transferring to and from test tube cultures in the lab,they are really useful tools in inoculating experiment.

Delivery & Availability: Typically 5-7 working days – excluding furniture and heavy/bulky equipment. Please contact us for further information.

Shipped from Abroad

The iiSM VPism-D Vein Probe - Desk Unit includes a camera, touchscreen display, desk stand, power supply, and instruction manual. This device is a non-invasive infrared device mounted to a desk stand, and allows physicians to view blood vessels and capillaries just beneath the skin. Delivery & Availability: Typically 10 working days – excluding furniture and heavy/bulky equipment. Please contact us for further information.

In stock

Powerful and user-friendly MiniSpin Centrifuge are small enough so that each workstation can be equipped with a "personal" centrifuge. The rotor, inner centrifuge lid, and lid latch are made of metal for maximum operation safety. Delivery & Availability: Typically 5-7 working days – excluding furniture and heavy/bulky equipment. Please contact us for further information.

In stock

Microprocessor control.
Digital display setting and actual temperature.
Over temperature alarm, PID self-tuning.
Digital display running timer.
Stainless steel interior.
Electricity leakage protection.
With glass inner door, With hidden door locks.
Mechanical overheat protection, cut off the heating sources.
Automatic alarm after operation.
Suitable for constant temperature tests.
Suitable for bacteria cultivation, breeding, ferment.

Delivery & Availability: Typically 5-7 working days – excluding furniture and heavy/bulky equipment. Please contact us for further information.

Shipped from Abroad

The skyla Hi POC Clinical Chemistry Analyzer provides clinical testing laboratories of medical facilities and clinics with an in-vitro clinical chemistry diagnostic tool that is compact, portable, and reports rapid results.The use of skyla Hi in the management of diabetes enables better access to testing and rapid clinical decision making, discussion,and implementation of optimized treatment. Delivery & Availability: Typically 14 working days – excluding furniture and heavy/bulky equipment. Please contact us for further information.

Shipped From Aboard 

The advanced B111 Bilirubinmeter provides fast, accurate results for Total bilirubin level in neonates with only 40μl serum or plasma sample. It determines total bilirubin by dual wavelength photometric analysis. Suited for pediatric setups, small workload labs & hospitals because of its compact and portable design. Advanced, benchtop and precise instrument for measuring Total Bilirubin.

Delivery & Availability:

Typically 2 working days – excluding furniture and heavy/bulky equipment. Please contact us for further information.
Content

 The inoculation holder is made of bakelite handle and nickel plated brass rod,the inoculating loop is made of durable nichrome,can be flame sterilizing

Easily manageable while being long enough to dissipate lots of heat,and good for hours of back-to-back platinge

Heat the loop until it glows then let it cool for about thirty seconds before touching your culture.Don't autoclave the bakelite handle,it can always be disinfected with ethanol

The grip portion of the handle is pliable and soft,highly durable and solid product without being overly heavy and a chore to use

Package include:1pcs 8.8'(22cm) inoculation rod and 50pcs 10ul inoculating tips(3mm diameter twisted wire loop and 55mm long)

The iiSM VPism-D Vein Probe - Desk Unit includes a camera, touchscreen display, desk stand, power supply, and instruction manual. This device is a non-invasive infrared device mounted to a desk stand, and allows physicians to view blood vessels and capillaries just beneath the skin. The iiSM VPism-D Vein Probe - Desk Unit provides accurate placement of needle injections or other vascular treatments, such as for blood draws, catheters, or varicose veins. The touchscreen enables caregivers to zoom in and out of injection sites (up to 4x magnification), as well as pause and start live video. The infrared video shows the location of the veins and capillaries in real time, and can save images for their records. For patients who have difficult-to-find veins, this device will save them from incorrect or painful injection sites.The desk unit is collapsible for storage and easy to reassemble. It's portable with a height-adjustable camera, and an armrest for the patient's arm (recommended that hygienic pads are used for each patient, for a clean, sterile environment). For patients where veins are deeper than the surface level, physicians can use the SLism-F Specialized Light Source (sold separately) for a closer look. Features: Probe Target: Subcutaneous blood vessels of various patients (including capillaries) Probe Method: Non-invasive infrared technology Probe Depth: Within 10 mm under the skin Magnification Function: Up to 1X, 2X and 4X Automatic Adjustment Function: Adjusts the brightness automatically based on the targeted vein Specialized Light Function: Shows the veins more clearly by using the specialized light source Operation Method: Easy to operate with touchscreen Internal Battery Support: Continuous running time: 1.5 hours Warranty: 1 year
Powerful and user-friendly MiniSpin Centrifuge are small enough so that each workstation can be equipped with a "personal" centrifuge. The rotor, inner centrifuge lid, and lid latch are made of metal for maximum operation safety. Features:

Rotor capacity: 12 x 1.5/2.0 mL vessels, 2 x PCR strip
Max. speed: 14,100 x g (14,500 rpm)
Extremely compact footprint — measures 9"W x 4."H x 9ó"D!
Aluminum rotor accommodates twelve 1.5- or 2.0-mL tubes (maximum diameter of 11 mm)
Rotor can be autoclaved at 121°C for 20 minutes
Minimal sample heat transfer — maximum of 12°C after 20 minutes at max speed
Eliminate costly repairs with the low maintenance drive
Soft-touch lid closure for ergonomic lid locking — and releases automatically at the end of a run

Technical Specifications:

| | |
| --- | --- |
| Speed: | 800 – 13,400 rpm (100 rpm steps) |
| Capacity: | 12 x 1.5/2.0 mL |
| Electrical: | 120 V, 60 Hz |
| Dimensions: | (W x D x H) 22.6 x 23.9 x 12.0 cm |
| Weight: | 4.3 kg |

Features:

Microprocessor control.
Digital display setting and actual temperature.
Over temperature alarm, PID self-tuning.
Digital display running timer.
Stainless steel interior.
Electricity leakage protection.
With glass inner door, With hidden door locks.
Mechanical overheat protection, cut off the heating sources.
Automatic alarm after operation.
Suitable for constant temperature tests.
Suitable for bacteria cultivation, breeding, ferment.

Technical Specification: Model: IB-9025A Working size: 250x250x250mm/9.84x9.84x9.84inch Power: 150W Temperature range: Room temperature+5~65℃ Temperature resolution: 0.1℃ Temperature fluctuation: ±0.5℃ Timer: 0-9999min Voltage: 110V 60Hz / 220V 50Hz Dimension: 380x370x580mm/14.96x14.57x22.83inch Size: 52cm*46cm*75cm / 20.5in*18.2in*29.6in Gross Weight:42kg / 93lb Net Weight: 23kg / 51lb Warranty: 1 year
skyla Hi Analyzer enables better access to testing and rapid clinical decision making, discussion, and implementation of optimized treatment. To get the result, only prepare <1 μl fingertips blood or venous blood (depends on test item) without pretreatment with easy steps and then read the result after 6 mins. The device allows two specimens be tested in one run and provides fully automatic procedures from checking the validity of cartridge to printing the results. Reagent Kit

HbA1C
CRP
Lipid Panel (TC,TG, HDL, LDL#)
Lipid Plus Panel (Glu,TC,TG, HDL, LDL#)

Main Specification

Principle

Turbidimetric Method / Biochemistry

Device

Testing Time

5~20 minutes (depends on test items)

Display and Interface

5″ TFT color touch screen LCD

Memory Capacity

50,000 test results

Dimension of Analyzer

270 x 188 x 148 mm

Weight of Analyzer

1.7 kg

Dimension of Printer Module

134 x 100 x 82.7 mm

Weight of Printer Module

0.37 kg

Power Supply

100~240 volts AC, 50-60Hz

Data Transmission

USB 2.0*4 / USB 3.0*1 / RS232*1 / RJ45*1 / Wi-Fi (optional)

Reagent and Samples

Samples

Fingertips blood or venous blood

Samples Volume

0.8 ~ 30 μL (depends on test item)

Storage Temperature (Reagent)

2 ~ 8˚C

Humidity

Relative humidity < 95% (Non-condensing)

The advanced B111 Bilirubinmeter provides fast, accurate results for Total bilirubin level in neonates with only 40μl serum or plasma sample. It determines total bilirubin by dual wavelength photometric analysis. Suited for pediatric setups, small workload labs & hospitals because of its compact and portable design. Advanced, benchtop and precise instrument for measuring Total Bilirubin. Feature

Auto zero function: Manual blanking not required
Dual wavelength measurement system:
2 wave lengths 455nm and 575nm
Plays major role to remove the interference caused due to Hemolysis & turbidity of sample
LED Light source:
LED does not require replacement as it lasts longer
As compared to Lamp, LED are more suitable as there is no intensity fluctuations
No warm up time required.
Flexible unit selection:
Two units either mg/dl or umol/L are selectable, ease of reporting
Compact slot for Capillary:
Accuracy of results are directly related to proper alignment of Capillary
B-111 has the easiest mode to ensure precise values
Data transfer:
External device can be connected to instrument through RS232 por
USB port

Technical Specification

Light source - LED

Wavelength - 455nm and 575nm
Net weight - 1kg
Measuring range - 0-30 mg/dl , 510 umol/L
Display - 16×2 LCD module with backlight
Auto calibration - Yes
Sample type - Serum or plasma
Sample volume - 40-80μL
Test time - <5sec
Units - mg/dl or umol/L
Dimensions - 150 (W) × 115 (H) × 190 (D) mm
Interface - RS232
Reading cuvette - Heparinized micro capillary holder
Storage temperature - 15-40°c
Power supply - DC 9V(DC adapter)
Power consumption - <2W

Weight
N/A
N/A
N/A
N/A
N/A
N/A
Dimensions
N/A
N/A
N/A
N/A
N/A
N/A
Additional information

| | |
| --- | --- |
| Model | Advanced, Advanced Plus, Basic, Smart |