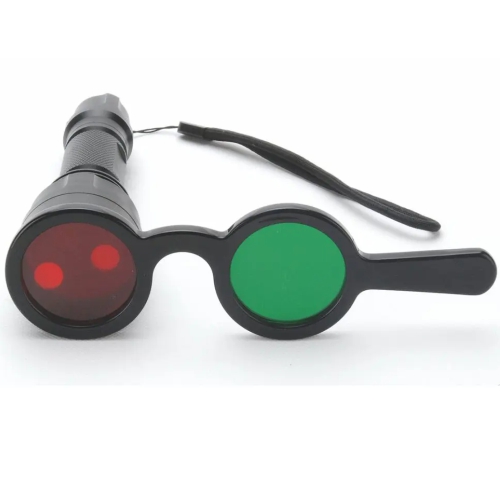 Worth 4 Dot Test Equipment
$0.00
Shipped From Abroad
Delivery & Availability:
Typically 10-21 working days – excluding furniture and heavy/bulky equipment. Please contact us for further information.
Description
The Worth Four Light Test, also known as the Worth's Four Dot test or W4LT, is a clinical test mainly used for assessing a patient's degree of binocular vision and binocular single vision. Binocular vision involves an image being projected by each eye simultaneously into an area in space and being fused into a single image. The Worth Four Light Test is also used in detection of suppression of either the right or left eye. Suppression occurs during binocular vision when the brain does not process the information received from either of the eyes. This is a common adaptation to strabismus, amblyopia and aniseikonia.
Quick Comparison
Settings
Worth 4 Dot Test Equipment

remove

Mayo Table

remove

Syringe Bulb

remove

Hospital Trolley

remove

Siare Morpheus M Anaesthetic Machine

remove

Dirty Linen Trolley

remove

Name
Worth 4 Dot Test Equipment

remove

Mayo Table

remove

Syringe Bulb

remove

Hospital Trolley

remove

Siare Morpheus M Anaesthetic Machine

remove

Dirty Linen Trolley

remove

Image
SKU
SF103356013063
SF1033560084-239
SF1033560084-205
SF1033560084-237
SF1033560101-2
SF1033560084-226
Rating
Price

$0.00

$0.00

Stock
Availability
Add to cart
Description

Shipped From Abroad

Delivery & Availability:

Typically 10-21 working days – excluding furniture and heavy/bulky equipment. Please contact us for further information.

In stock

Material Stainless: Steel Height Adjustable: Yes Number of Wheel: 4 Height: 3-4 Feet

Delivery & Availability: Typically 5-7 working days – excluding furniture and heavy/bulky equipment. Please contact us for further information.

In stock

Ear / Ulcer Bulb Syringes are ideal for irrigating smaller wounds and alleviating congestion. The syringes are available in several sizes to meet clinical requirements.

Delivery & Availability: Typically 5-7 working days – excluding furniture and heavy/bulky equipment. Please contact us for further information.

In stock

Dimension (mm): L550 x W420 x H880 mm Color: Grey Material: Stainless steel No of wheel: 4

Delivery & Availability: Typically 5-7 working days – excluding furniture and heavy/bulky equipment. Please contact us for further information.

Shipped from Abroad

The MORPHEUS M is an anaesthesia machine and it can be used on adult, children and newborn patients. The MORPHEUS M is suitable for administration of Oxygen – Air – Nitrous Oxide – Halothane – Enflurane – Isoflurane – Sevoflurane – Desflurane mixtures. Delivery & Availability: Typically 5-7 working days – excluding furniture and heavy/bulky equipment. Please contact us for further information.

In stock

| | |
| --- | --- |
| No of Wheel | 4 |
| Usage | Hospital |
| Cloth Material | Synthetic |
| Pole Material | Aluminium / SS |

Delivery & Availability: Typically 5-7 working days – excluding furniture and heavy/bulky equipment. Please contact us for further information.
Content
The Worth Four Light Test, also known as the Worth's Four Dot test or W4LT, is a clinical test mainly used for assessing a patient's degree of binocular vision and binocular single vision. Binocular vision involves an image being projected by each eye simultaneously into an area in space and being fused into a single image. The Worth Four Light Test is also used in detection of suppression of either the right or left eye. Suppression occurs during binocular vision when the brain does not process the information received from either of the eyes. This is a common adaptation to strabismus, amblyopia and aniseikonia.

| | |
| --- | --- |
| Material | Stainless Steel |
| Height Adjustable | Yes |
| Number of Wheel | 4 |
| Height | 3-4 Feet |

Ear / Ulcer Bulb Syringes are ideal for irrigating smaller wounds and alleviating congestion. The syringes are available in several sizes to meet clinical requirements.

Disposable syringe for aspiration and irrigation
Ideal for suctioning a newborn's airway
Sterile

Bulb Aspirator Syringe. - Supplied in sealed pack - Sterile.

Latex Free Bulb aspirator Syringe - Essential part of any Whelping kit.

Quickly and hygienically removes fluids from mouth and throat of puppies & Kittens.

Nasal aspirator to clear nose in babies.

Can be used to wash ulcers.

| | |
| --- | --- |
| Dimension (mm) | L550 x W420 x H880 mm |
| Color | Grey |
| Material | Stainless steel |
| No of wheel | 4 |

The MORPHEUS M is an anaesthesia machine and it can be used on adult, children and newborn patients. The MORPHEUS M is suitable for administration of Oxygen – Air – Nitrous Oxide – Halothane – Enflurane – Isoflurane – Sevoflurane – Desflurane mixtures. Features:

Mechanic gas mixing system
Electronic lung ventilator with 12" TFT colour display
Valves group: open, semi-closed, closed, heated, with soda lime absorber (1,5 Kg)
SIARETEX rapid connection device, Selectatec compatible for 2 vaporizers
Gas supply group
Ventilation modalities: APCV-PCV; APCV-TV; PSV; APNEA BACK-UP; VC-VAC; VC-VAC BABY; SIMV+PS (volumetric); SPONT; MANUAL.
Measured parameters: PAW; PEEP; Vte; ExpMV; Rate; I:E; FiO2, Pmax; Pmean; Pause; Vti; FLOWi; FLOWe; Tinsp; Tesp; Tpause; Cs; Ri
Displayed ventilation curves: Paw, Flow, Volume, Loop (Volume/Paw ; Volume/Flow)
Adjustable parameters: – O2 built-in Mixer device from 21% to 99% – I:E Adjustable Ratio: 1:1-1:2-1:3-1:4-2:1-3:1 – Inspiratory Flow – PEEP – Breathing Rate – Minute Volume; – Tidal Volume – Inspiratory Pressure Limit – Inspiratory Pause – Inspiratory Time – Trigger
Mechanic flowmeter module: 3-flow mechanical flow meter (O2 – N2O – AIR) with 5 flow meters for low flows. Equipped with safety systems (MIX-LIFE, CUT-OFF, flow meter protection valve).
Breathing system: The breathing system of Morpheus guarantees to the user an absolute flexibility and easy handling thanks to the noble construction materials employed. The valves group can be drawn-up and it's totally autoclavable at 121°C and all its parts are manually dismountable, with no need of special tools.The breathing system is made of; Calibrated APL valve, Fresh gas collecting bag, O2 cell for reading of FiO2, Removable 1 kg soda lime canister, Manually inspectionable bellows jar, Safety valve for ambience air suction in case of fresh gas failure, Flow transducer inside the group located on the expiratory line.

Optional accessories 11054 AIRPAK 54 stand-alone medical air compressor 100150/IDF Isoflurane Vaporizer 100148/IDF Fluo-Halotane Vaporizer 100145/IDF Sevoflurane Vaporizer 100151/IDF Desflurane Vaporizer A57.049-800601 gas analysis module (5 AA – CO2 – N2O – O2 – MAC) ric.auto )

| | |
| --- | --- |
| No of Wheel | 4 |
| Usage | Hospital |
| Cloth Material | Synthetic |
| Pole Material | Aluminium / SS |

Weight
N/A
N/A
N/A
N/A
N/A
N/A
Dimensions
N/A
N/A
N/A
N/A
N/A
N/A
Additional information