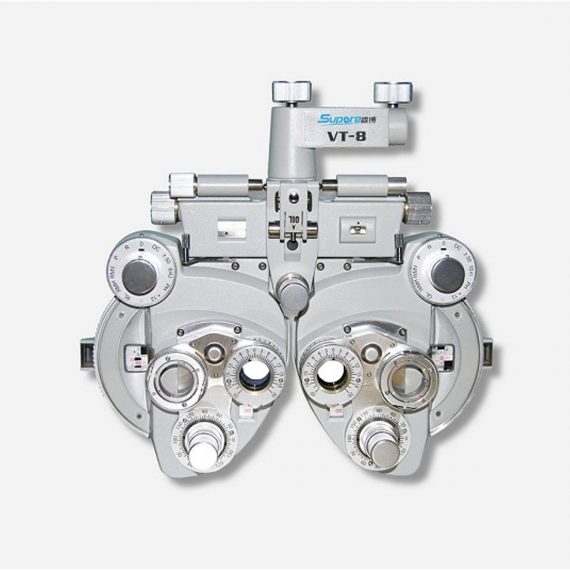 VT-8 View Tester (Manual Phoropter)
₦0.00
Ship from abroad
Equipped with comprehensive measuring functions, it provides SPH, CYL, AXIS and pupil distance optometry
Durable and easy to operate
Easily and intuitively read the sphere focal scale value
High eco-friendly materials
Design fitting the face curve and no stimulation
Delivery & Availability:
Typically 14 working days – excluding furniture and heavy/bulky equipment. Please contact us for further information.
Description
Features:
Equipped with comprehensive measuring functions, it provides SPH, CYL, AXIS and pupil distance optometry
Durable and easy to operate
Easily and intuitively read the sphere focal scale value
High eco-friendly materials
Design fitting the face curve and no stimulation
Easy to take and clean
Free switch between the cross-cylindrical lens and the rotary prism
When the rotating risk is turning by the sphere, it can make sphere power adjust 3.00D for big scope.
It is designed expediently and smartly for a particular cross cylinder. Supporting supplementary lens could increase scope of measurement.
Technical Specifications:
Sphere

Range:-19.00~+16.75m-1 Step: 0.25m-1, 3.00m-1

Cylinder

Range: 0.00~-6.00m-1(Measuring Range With Accessories0.00~-8.00m-1) Step: 0.25m-1

Cylinder Axis

Range: 0~180°, Step:5°

Distance of Optical center (also known as Pupil)

Range: 50~75mmStep: 1mm

Sight Switch

Range:∞~380mm (distance of Optical center is64mm)

Front Chin Test

Range: 0~16mm

Distance (from cornea vertex to the lens surface)

16mm

Standard Accessories Lens

two pieces of Auxiliary Cylinder -2.00m-1 and -0.12m-1 respectively

Standard Accessories

one piece of M2 Hexagon wrench , one piece of a Myopia Standard Card, two piece of Myopia Standard Card , one piece of standard card holder , a dust cover

Auxiliary Lens

"O":Open aperture

"R":Retinoscope lens

"R":Retinoscope lens

"R":Retinoscope lens

*Lens of +1.50m-1 ,It is suit for the distance of 67 centimeters

"P":Polaroid

* it is used for examining the dioptric balance of eyes , Implicit strabismus and stereo vision

"RMV":Red Vertical maddox

*Be used to examine Implicit strabismus

"RMH":Red horizontal maddox

*Be used to examine Implicit strabismus

"WMV":Plane Vertical Maddox

*Be used to examine Implicit strabismus

"WMH":Plane horizontal maddox

*Be used to examine Implicit strabismus

"RL":Red lens

*Be used to examine eye function, Blending function and Implicit strabismus

"GL":Green lens

*Be used to examine eye function, Blending function and Implicit strabismus

"+":Test mark of optical center adjustment

"+.12":Dioptric of the Spherical Lens is +0.12m-1

*Be used for the semi-adjustment of sphere lens, 0.25m-1

"PH":1mmPinhole lens

*Be used to exclude visual non-refractive errors of the tested eye

"6ΔU":6ΔBottom-up prism

*Be used to examine the rotating prism with the detection of nearly horizontal squint

"10ΔI":10ΔBottom-up prism

*Be used to examine the rotating prism with the detection of nearly horizontal squint

"±0.50":Cross-cylindrical lens

*Be used to examine the corrected dioptric of the Presbyopia and spherical lens

"OC":Black lens

size

338(L)×99(W)×292(H)mm

NW

about 5kg