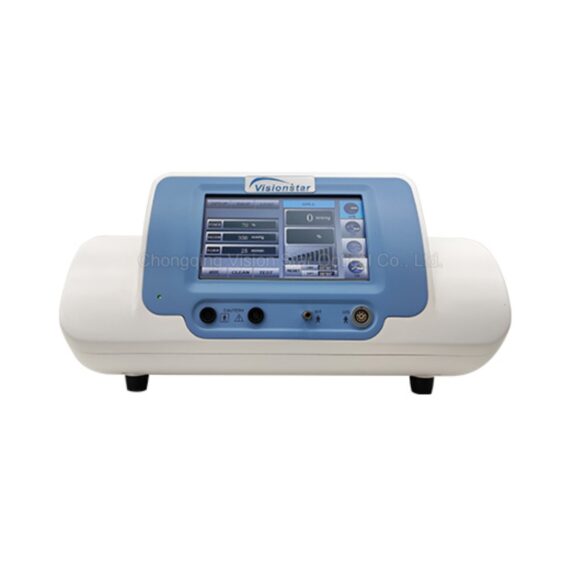 Phaco Emulsifier
$0.00
Shipped From Abroad
A Phaco Emulsifier is a sophisticated machine that sends ultrasonic vibrations to a tiny probe that has been inserted through an incision into the cloudy lens that constitutes the cataract.
phacoemulsification machine is a device intended to break up and remove lenses of the eye that have cataracts.
Delivery & Availability:
Typically 10-21 working days – excluding furniture and heavy/bulky equipment. Please contact us for further information.
Description
Phaco emulsifier is a sophisticated machine that sends ultrasonic vibrations to a tiny probe that has been inserted through an incision into the cloudy lens that constitutes the cataract
Features of Phaco Emulsifier:
1.All parts of the system are fully controlled and monitored by Microprocessor Technology;
2.Smoothly and efficiently controlling the emulsifier process with digital frequency tracing technology;
3.Easy operation and user-friendly interface with large TFT touch screen and functional menu;
4.Up to 10 sets of parameters preset meet different requirements and simplify the surgery operation;
5.Auto test checks tubing and hand piece problems (e.g.: block or leakage)
6.The peristaltic pumps gives complete control of aspiration flow rate as well as freedom from anterior chamber shallowing. This way can give stronger suction when working in I/A
7.Built-in Vitrectomy and Cautery
8.Intelligent Voice Reminder
Standard Configuration:
| | |
| --- | --- |
| Item | Quantity |
| Phaco Emulsifier | 1 |
| Foot Switch | 1 |
| Resuable Tubing Kit | 1 |
| U/S Handpiece | 1 |
| I/A Handpiece | 1 |
| U/S Tip (30°) | 1 |
| Tip Wrench | 1 |
| Test Chamber | 1 |
| Irrigation Sleeve | 2 |
| Irrigation Sleeve (VIT) | 1 |
| VIT Tip | 1 |
| Cautery Forceps (cable Included) | 1 |
| Subtotal | 13 |
Technical Specification:
| | |
| --- | --- |
| Ultrasonic Emulsification |   |
| Frequency | 40kHz |
| Functional mode | Continuance, Pulse, Linear, Burst |
| Continuance | Emulsifying power Range: 0 ~ 100 |
| Pulse | Frequency Range 1 ~ 99Hz |
| Linear | Emulsifying power linearly controlled by the footswitch, varies between 0 ~ 100% |
| Burst-Stopping Time | 1.5 ~ 0s |
| Burst-Working Time | 5 ~ 100ms |
| Maximum Vacuum | 500 mmHg |
| Maximum Flux Rate | 40 ml/min |
| 40 ml/min | |
| Flux Rate | 0 ~40 ml/min |
| Reflux Rate | 20 ml/min |
| Max Vacuum | 0~500 mmHg |
| VIT (Vitrectomy) | |
| Cutting Power Source | Air Pump |
| Reflux Rate | 20 ~ 600/min, step 10/min |
| Max Vacuum | 500 mmHg |
| Cautery | |
| Maximum Power | 10 W ± 20 % (200Ω) |
| Type | Bipolar |
| Power preset between | ~ 100% |
Quick Comparison
Settings
Phaco Emulsifier

remove

Pedal Bin

remove

Stainless Steel Hospital Two Step Stool

remove

Mayo Table

remove

OPTIKA B-383DK Trinocular Darkfeld Microscope

remove

Hospital Trolley

remove

Name
Phaco Emulsifier

remove

Pedal Bin

remove

Stainless Steel Hospital Two Step Stool

remove

Mayo Table

remove

OPTIKA B-383DK Trinocular Darkfeld Microscope

remove

Hospital Trolley

remove

Image
SKU
SF103356013029
SF1033560084-201
SF1033560084-204
SF1033560084-239
SF1033560098-14
SF1033560084-237
Rating
Price

$0.00

$0.00

Stock
Availability
Add to cart
Description

Shipped From Abroad

A Phaco Emulsifier is a sophisticated machine that sends ultrasonic vibrations to a tiny probe that has been inserted through an incision into the cloudy lens that constitutes the cataract.

phacoemulsification machine is a device intended to break up and remove lenses of the eye that have cataracts.

Delivery & Availability:

Typically 10-21 working days – excluding furniture and heavy/bulky equipment. Please contact us for further information.

In stock

Brushed Steel Finish
3L capacities
Gripped pedal
Easy clean plastic bucket
Lip for hiding excess bag

Delivery & Availability: Typically 5-7 working days – excluding furniture and heavy/bulky equipment. Please contact us for further information.

In stock

Features:

Extra-wide tops
Chrome-plated, reinforced base
Dimensions:  Top & Bottom step - 17.25in H x 17.25in W x 26.50in L
Weight capacity: 600 lbs.
Skid resistant rubber mat for safety

Manufacturer warranty: 5 years

Delivery & Availability: Typically 5-7 working days – excluding furniture and heavy/bulky equipment. Please contact us for further information.

In stock

Material Stainless: Steel Height Adjustable: Yes Number of Wheel: 4 Height: 3-4 Feet

Delivery & Availability: Typically 5-7 working days – excluding furniture and heavy/bulky equipment. Please contact us for further information.

Shipped from Abroad

B-383DK - Darkfield Microscope Laboratory upright microscope for brightfield and darkfield observations with N-PLAN objectives (and W-PLAN 100x with iris) for biology and especially darkfield fresh blood analysis and the exclusive X-LED3 illumination system. The special condenser with integrated, exclusive X-LED3 illuminator replaces any other external and expensive lighting source required for these applications and is ideal for great-looking, rich and high-quality specimen view. Delivery & Availability: Typically 21 working days – excluding furniture and heavy/bulky equipment. Please contact us for further information.

In stock

Dimension (mm): L550 x W420 x H880 mm Color: Grey Material: Stainless steel No of wheel: 4

Delivery & Availability: Typically 5-7 working days – excluding furniture and heavy/bulky equipment. Please contact us for further information.
Content
Phaco emulsifier is a sophisticated machine that sends ultrasonic vibrations to a tiny probe that has been inserted through an incision into the cloudy lens that constitutes the cataract Features of Phaco Emulsifier:

1.All parts of the system are fully controlled and monitored by Microprocessor Technology;

2.Smoothly and efficiently controlling the emulsifier process with digital frequency tracing technology;

3.Easy operation and user-friendly interface with large TFT touch screen and functional menu;

4.Up to 10 sets of parameters preset meet different requirements and simplify the surgery operation;

5.Auto test checks tubing and hand piece problems (e.g.: block or leakage)

6.The peristaltic pumps gives complete control of aspiration flow rate as well as freedom from anterior chamber shallowing. This way can give stronger suction when working in I/A

7.Built-in Vitrectomy and Cautery

8.Intelligent Voice Reminder

Standard Configuration:

| | |
| --- | --- |
| Item | Quantity |
| Phaco Emulsifier | 1 |
| Foot Switch | 1 |
| Resuable Tubing Kit | 1 |
| U/S Handpiece | 1 |
| I/A Handpiece | 1 |
| U/S Tip (30°) | 1 |
| Tip Wrench | 1 |
| Test Chamber | 1 |
| Irrigation Sleeve | 2 |
| Irrigation Sleeve (VIT) | 1 |
| VIT Tip | 1 |
| Cautery Forceps (cable Included) | 1 |
| Subtotal | 13 |

Technical Specification:

| | |
| --- | --- |
| Ultrasonic Emulsification |   |
| Frequency | 40kHz |
| Functional mode | Continuance, Pulse, Linear, Burst |
| Continuance | Emulsifying power Range: 0 ~ 100 |
| Pulse | Frequency Range 1 ~ 99Hz |
| Linear | Emulsifying power linearly controlled by the footswitch, varies between 0 ~ 100% |
| Burst-Stopping Time | 1.5 ~ 0s |
| Burst-Working Time | 5 ~ 100ms |
| Maximum Vacuum | 500 mmHg |
| Maximum Flux Rate | 40 ml/min |
| 40 ml/min | |
| Flux Rate | 0 ~40 ml/min |
| Reflux Rate | 20 ml/min |
| Max Vacuum | 0~500 mmHg |
| VIT (Vitrectomy) | |
| Cutting Power Source | Air Pump |
| Reflux Rate | 20 ~ 600/min, step 10/min |
| Max Vacuum | 500 mmHg |
| Cautery | |
| Maximum Power | 10 W ± 20 % (200Ω) |
| Type | Bipolar |
| Power preset between | ~ 100% |

Brushed Steel Finish
3L capacities
Gripped pedal
Easy clean plastic bucket
Lip for hiding excess bag

| | | |
| --- | --- | --- |
| Height | 260mm | 10.24inches |
| Width | 170mm | 6.69inches |
| Depth | 225mm | 8.86inches |
| Weight | 0.63kg | 1.39lb |

Features:

Extra-wide tops
Chrome-plated, reinforced base
Dimensions:  Top & Bottom step - 17.25in H x 17.25in W x 26.50in L
Weight capacity: 600 lbs.
Skid resistant rubber mat for safety

Manufacturer warranty: 5 years

| | |
| --- | --- |
| Material | Stainless Steel |
| Height Adjustable | Yes |
| Number of Wheel | 4 |
| Height | 3-4 Feet |

Observation mode: Brightfield, oil immersion darkfield. Head: Trinocular (fixed 50/50), 30° inclined, 360° rotating. Interpupillary distance: Adjustable between 48 and 75 mm. Dioptric adjustment: On the left eyepiece tube. Eyepieces: WF10x/20 mm, high eye-point and secured by screw. Nosepiece: Quintuple revolving nosepiece, rotation on ball bearings. Objectives: N-PLAN 4x/0.10 N-PLAN 10x/0.25 N-PLAN 40x/0.65 W-PLAN 100x/1.25 (oil) with iris All with anti-fungus treatment. Specimen stage: Double layer rackless mechanical stage, 150×139 mm, 75×33 mm X-Y range. Focusing: Coaxial coarse (adjustable tension) and fine focusing mechanism with limit stop to prevent the contact between objective and specimen. Brightfield condenser: Abbe N.A. 1.25, with objective-coded iris diaphragm, focusable and centerable. Darkfieldfield condenser: Darkfield N.A. 1.36 (oil immersion) with built-in X-LED3. Transmitted illumination (Fixed Koehler type): X-LED3 with white 3.6 W LED (6,300K) with brightness control. Multi-plug 100-240Vac/6Vdc external power supply.

| | |
| --- | --- |
| Dimension (mm) | L550 x W420 x H880 mm |
| Color | Grey |
| Material | Stainless steel |
| No of wheel | 4 |

Weight
N/A
N/A
N/A
N/A
N/A
N/A
Dimensions
N/A
N/A
N/A
N/A
N/A
N/A
Additional information