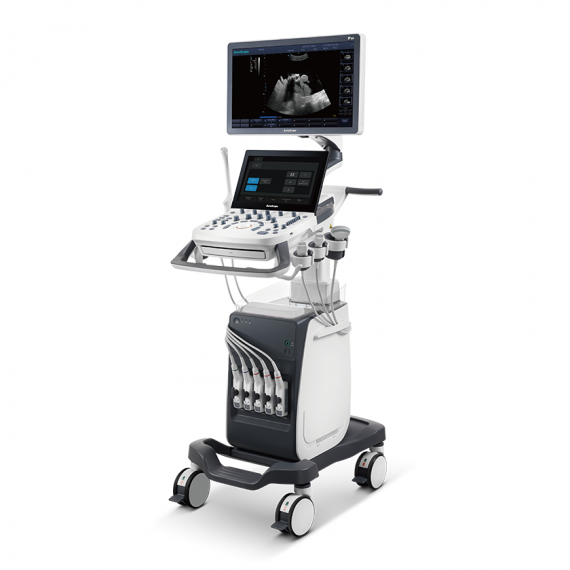 Sonoscape P10 Ultrasound Machine
$0.00
Shipped from Abroad
The P10 color Doppler ultrasound system is a new generation product from SonoScape. It is designed to give high quality images, rich probe configurations, various clinical tools and automatic analysis software to provide you with comprehensive solutions for your growing demand for clinical applications.
Delivery & Availability:
Typically 5-7 working days – excluding furniture and heavy/bulky equipment. Please contact us for further information.
Description
DETAILS
B + Compound
B + Compound utilizes several lines of sight for optimal contrast resolution, speckle reduction and border detection, with which P10 is ideal for superficial and abdominal imaging with better clarity and improved continuity of structures.
μ-Scan
The new generation μ-Scan imaging technology gives you better image quality by reducing noise, improving signal strength and improving visualization.
P10 offers a comprehensive selection of electronic probes to maximize its capabilities to meet a wide range of applications including abdomen, pediatric, OB/GYN, cardiovascular, musculoskeletal, etc. The advanced probe technologies also effectively enhance the image quality and confidence in reaching clinical diagnoses, even in difficult patients.
Convex Probe 3C-A
Ideal for an abundant of application such as abdomen, gynecology, obstetrics, urology and even abdomen biopsy.
Linear Probe L741
This linear probe is designed to satisfy vascular, breast, thyroid, and other small parts diagnosis, and its adjustable parameters could also present users a clear view of MSK and deep vessels.
Phase Array Probe 3P-A
For the purpose of adult and pediatric cardiology and emergency, the phase array probe provides elaborate presets for different exam modes, even for difficult patients.
Intracavitary Probe 6V1
Intracavitary probe could face application of gynecology, urology, prostate, and its temperature detection technology not only protects the patient but also extends the service life.
Quick Comparison
Settings
Sonoscape P10 Ultrasound Machine

remove

DrGem Ceiling Analogue X-ray Machine

remove

Sonoscape P15 Ultrasound Machine With Four Probes

remove

Sonoscape P20 Ultrasound Machine

remove

Bistos BT- 410 Medical Head Lamp

remove

ASPEL Ambulatory BP Machine

remove

Name
Sonoscape P10 Ultrasound Machine

remove

DrGem Ceiling Analogue X-ray Machine

remove

Sonoscape P15 Ultrasound Machine With Four Probes

remove

Sonoscape P20 Ultrasound Machine

remove

Bistos BT- 410 Medical Head Lamp

remove

ASPEL Ambulatory BP Machine

remove

Image
SKU
SF1033560012-7
SF1033560074-7
SF1033560012-8
SF1033560012-9
SF1033560059-6
SF1033560075-13
Rating
Price

$0.00

$0.00

$0.00

$0.00

Stock
Availability
Add to cart
Description

Shipped from Abroad The P10 color Doppler ultrasound system is a new generation product from SonoScape. It is designed to give high quality images, rich probe configurations, various clinical tools and automatic analysis software to provide you with comprehensive solutions for your growing demand for clinical applications. Delivery & Availability: Typically 5-7 working days – excluding furniture and heavy/bulky equipment. Please contact us for further information.

Shipped from abroad

The DrGem Ceiling Analogue X-ray Machine is a diagnostic radiography system that provides reliable high quality radiographic images with a reduced dose. The reliable high-frequency x-ray generators that are known worldwide for their excellent performance, lifetime and stability. Patient tables and wall stands are also offered. Delivery & Availability: Typically 21 working days – excluding furniture and heavy/bulky equipment. Please contact us for further information.

In Stock

A feature-rich system inheriting the Wi-Sono high-end platform, the P15 uses an array of advanced tools to help enhance the image quality. It's a cost-effective, simplified console with an intuitive user interface and multiple intelligent functions. Delivery & Availability: Typically 2 working days – excluding furniture and heavy/bulky equipment. Please contact us for further information.

Shipped from Abroad

Incorporating innovative technologies, P20's user-friendly design with a simple operation panel, intuitive user interface and a variety of intelligent auxiliary scanning tools, will significantly improve your daily examination experience. Besides general imaging applications, P20 has entitled with diagnostic 4D technology which has an extraordinary performance in obstetrics and gynecology applications. Delivery & Availability: Typically 5-7 working days – excluding furniture and heavy/bulky equipment. Please contact us for further information.

Shipped from abroad

Bistos BT- 410 Medical Head Lamp - Head-worn light BT-410 provides not only comfortable wear but also convenient for use during examinations or operations. - Ultra bright LED light with High density LED - Easy to adjust head strap & an angle - Extensive LED lifetime (more than 50,000 hours) - More than 4 hours of continuous use - An additional astral LED lamp (optional) - Attachable loupe (optional) Delivery & Availability:

Typically 7 working days – excluding furniture and heavy/bulky equipment. Please contact us for further information.

Shipped from Abroad

ASPEL Ambulatory BP Machine - is a recorder of long-term records of non-invasive measurement of blood pressure intended for use in clinics, hospitals, outpatient centers and specialist surgeries. The recorder enables the assessment of blood pressure by the oscillometric method in adult patients, pregnant women, including preeclampsia and pediatric patients (from 3 years of age). Blood pressure is assessed by using an inflatable cuff, an accurate pressure transducer, and a deflation valve. Delivery & Availability: Typically 10 working days – excluding furniture and heavy/bulky equipment. Please contact us for further information.
Content
DETAILS B + Compound B + Compound utilizes several lines of sight for optimal contrast resolution, speckle reduction and border detection, with which P10 is ideal for superficial and abdominal imaging with better clarity and improved continuity of structures. μ-Scan The new generation μ-Scan imaging technology gives you better image quality by reducing noise, improving signal strength and improving visualization. P10 offers a comprehensive selection of electronic probes to maximize its capabilities to meet a wide range of applications including abdomen, pediatric, OB/GYN, cardiovascular, musculoskeletal, etc. The advanced probe technologies also effectively enhance the image quality and confidence in reaching clinical diagnoses, even in difficult patients. Convex Probe 3C-A Ideal for an abundant of application such as abdomen, gynecology, obstetrics, urology and even abdomen biopsy. Linear Probe L741 This linear probe is designed to satisfy vascular, breast, thyroid, and other small parts diagnosis, and its adjustable parameters could also present users a clear view of MSK and deep vessels. Phase Array Probe 3P-A For the purpose of adult and pediatric cardiology and emergency, the phase array probe provides elaborate presets for different exam modes, even for difficult patients. Intracavitary Probe 6V1 Intracavitary probe could face application of gynecology, urology, prostate, and its temperature detection technology not only protects the patient but also extends the service life.
DrGem Ceiling Analogue X-ray Machine is a diagnostic radiography system X-ray Machine that provides reliable high quality radiographic images with a reduced dose. The reliable high-frequency x-ray generators that are known worldwide for their excellent performance, lifetime and stability. Patient tables and wall stands are also offered. Features of DrGem Ceiling Analogue X-ray Machine

TS-CSA-A (Vertical movement, 1.6m stroke, rail length 3x4meter) including HV cable 15m
WBS-TA:  Vertical movement

V Stroke:1,450mm in Uprigh Bucky Position,
1,526mm in Horizontal Bucky position.

PBT-4 is a 4 way Floating Tabletop with. A large tabletop with extended travel enables all radiography studies with minimal patient movement. Fully fat tabletop without a frame on the edge makes cleanliness and odors free

Technical Specifications of DrGem Ceiling Analogue X-ray Machine

Power Rating - 32KW
Generator - GXR-32S
Rotor - Dual Speed Starter(DSS)
Input Power - 400/480VAC, Three phase
Line Frequency - 50/60Hz
X-ray tube - DXT-12M, (0.6/1.2mm, 300kHU)
Tube Voltage - 40 to 150kV, 1kV Step
Tube Current – 10 to 640mA
Output - 640mA@81kV,  500mA@104kV, 400mA@130kV, 320mA@150kV
Time Range - 1ms to 10s
mAs Range - 0.1 to 800mAs
Reproducibility - Coe­cient of Variation : kV < 0.005, Time < 0.005,mAs < 0.01
Accuracy - kV < ±(1%+1kV), mA < ±(3%+1mA), Time <±(1%+0.5ms), mAs < ±(3%+0.1mAs)
Linearity - Coe­cient of Linearity < 0.01 : CL = (X1-X2)/(X1+X2), where X is mR/mAs
Mechanical Parts:

-TS-CSA-A (Vertical movement, 1.6m, stroke rail length 3x4meter) including HV cable 15m - PBT-4: 4 way Floating Tabletop with Elevating Feature (66cm). - WBS-TA:   a.  Vertical    movement

  V Stroke:1,450mm in Upright Bucky
Position, 1,526mm in Horizontal Bucky position.

- HVC-15: 15M HV cable - Auto Collimator
DETAILS Super Wide-bandwidth Platform Inheriting Wi-sono's ultra-wide system platform and with the advanced probe technology, high-resolution and deep penetration images are provided for precision medicine. Spatial Compound Imaging Spatial Compound Imaging utilizes several lines of sight for optimal contrast resolution, speckle reduction and border detection, with which P15 is ideal for superficial and abdominal imaging with better clarity and improved continuity of structures. μ-Scan+ The new generation μ-Scan imaging technology gives you better image quality by reducing noise, improving signal strength and improving visualization. Dynamic Color Dynamic color improves upon already existing color Doppler technologies for a clearer capture of color flow and detailed visualization of even tiny veins with lower velocities. Real-time Panoramic With real-time panoramic, you can acquire an extended field of view for large organs or long vessels for easy measurement and diagnostic efficiency. Accomplished in real-time for the convenience of the sonographers, any mistake can also be easily back tracked and corrected without interrupting the scan. 3D/4D Outstanding volume performance with speed and convenience makes P15 outshine others on volume imaging. Tissue Doppler Imaging Tissue Doppler Imaging allows clinical doctors to quantitatively evaluate local myocardial movements and functions, facilitating them with the ability to analyze and compare the motions of the different parts of the patient's heart. Auto IMT Quick measurement of intra-media vessel thickness ensures good reproducibility and high diagnostic efficiency.
DETAILS Upgraded Images with More Clarity SonoScape never stops making progress in improving the image quality of its ultrasound products to enhance the confidence of diagnosis for doctors. With extraordinary images provided by P20, the anatomy structures are clearer than ever. C-Xlasto Imaging With C-xlasto Imaging, P20 enables comprehensive quantitative elastic analysis. Meanwhile, C-xlasto on P20 is supported by linear, convex and transvaginal probes, to ensure good reproducibility and highly consistent quantitative elastic results. S-Live S-Live allows for detailed visualization of subtle anatomical features, thereby enabling intuitive diagnosis with real-time 3D images and enriching patient communication. Pelvic Floor 4D Transperineal 4D pelvic floor ultrasound can provide useful clinical values in assessing the vaginal delivery impact on the female anterior compartment, judging whether the pelvic organs are prolapsed or not and the extent, determining if the pelvic muscles were torn accurately. Anatomic M Mode Anatomic M Mode helps you observe the myocardial motion at different phases by freely placing sample lines. It accurately measures the myocardial thickness and the heart size of even difficult patients and supports the myocardial function and LV wall-motion assessment. Tissue Doppler Imaging P20 is endowed with Tissue Doppler Imaging which provides velocities and other clinical information on myocardial functions, facilitating clinical doctors with the ability to analyze and compare the motions of different parts of the patient's heart.
Bistos BT- 410 Medical Head Lamp - Head-worn light BT-410 provides not only comfortable wear but also convenient for use during examinations or operations. - Ultra bright LED light with High density LED - Easy to adjust head strap & an angle - Extensive LED lifetime (more than 50,000 hours) - More than 4 hours of continuous use - An additional astral LED lamp (optional) - Attachable loupe (optional). Features: Illumination Uniformity:

Multi-lens structure ensures high level of uniform luminance in its light spot.

Coaxial Design:

Light source is located between two eyes is able to cast least shadow on the surface.

Also, the luminance angle moves freely with pivot joint structure.

Interchangeable Battery:

Rechargeable battery is interchangeable. With additional battery, no need to worry anymore about remaining power.

Technical Specifications: Model - (BT - 410) Order code - 410F Illumination - (Standard - 15,000 - 30,000 lx) Adjustable Illumination - Yes Illumination Uniformity - High Adjustable Light Spot - No Light Spot Size (at 300mm) - 70mm Astral Lamp - No Color Temperature - 6,000 K LED Life Time - Appox. 50,000 hour Loupe: Type - Single Lens Magnification - 2 x Battery: Type - Lithum-ion Capacity - 3.7V / 2,200 mAh Run time - 4 hour Charging time - 4 hour Weight - 190 g Band Size - (540 - 640mm) Warranty - 1 year
ASPEL Ambulatory BP Machine - is a recorder of long-term records of non-invasive measurement of blood pressure intended for use in clinics, hospitals, outpatient centers and specialist surgeries. The recorder enables the assessment of blood pressure by the oscillometric method in adult patients, pregnant women, including preeclampsia and pediatric patients (from 3 years of age). Blood pressure is assessed by using an inflatable cuff, an accurate pressure transducer, and a deflation valve. Features: Save-2-Safe: Double security system Thanks to the use of two independent measuring systems with an additional valve, it meets the highest standards and takes care of patient safety even better. Start-Easy: Quick start in two moves The quick launch function allows you to use the device instantly, easily allows you to start recording in holter mode. Memo-Care: Cuff pressure memory Recorder remembers the pressure in the cuff. Thanks to the use of Intelligent Solutions, it adapts individually to the patient. Power-Usb: USB connection The device can work without batteries: by connecting to a computer via a USB cable. Technical Specification:

Measuring range - adult: 0-300 mmHg,  pediatric: 0-150 mmHg
Pressure sensor - yes
Battery - up to 168 hours (exam every 30 minutes)
Memory - 1000 examination
Measurement periods - 6
Activity / sleep definition - yes
Operating mode - adult / pediatric
Stationary work - USB powered only and manual control
Measurement recording schedule - yes (division into activity and sleep)
Quick start of the recorder - yes
Use - easy, programming without a computer
Cooperation - ASPEL 508 ABPM or HolCARD CR-07 software
Internal real time clock - yes
Keyboard - yes, with event button
Screen - OLED
Work without batteries - yes, via USB cable
Cuff pressure - numerical or graphic value
Exam results - systolic, diasolic, mean and HR pressure
Display of measurement errors - yes, in the form of warnings and codes
Menu - extended, information data, quick start, exam results, factory reset, configuration
Pressure gauge test function - yes
Leak test function - yes
Energy saving - yes
Power - 4x battery AA, USB port: 5VDC
Weight 0,190kg

Accessories:

Adult cuff, medium
Pressure cable
Cuff and pressure cable connector
Recorder bag with belt
LR6 (AA) alkaline batteries - 4 pcs.
Instruction manual

Weight
N/A
N/A
N/A
N/A
N/A
N/A
Dimensions
N/A
N/A
N/A
N/A
N/A
N/A
Additional information